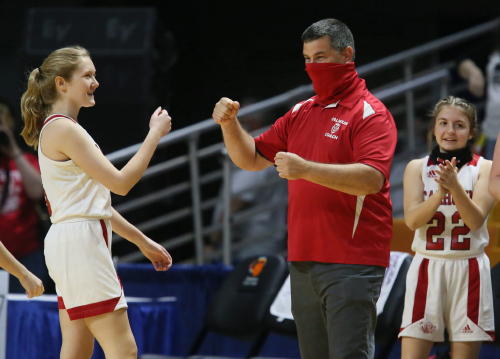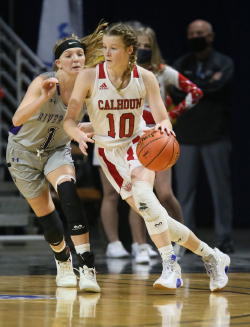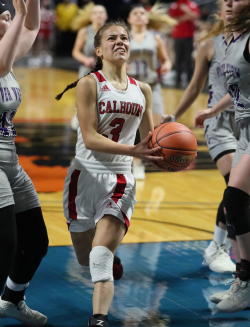 Calhoun advances to a semifinal Thursday against Cameron
CHARLESTON, W.Va. (Courtesy of WV MetroNews) - Calhoun County's first trip to the state tournament will be a prolonged stay.
The third-seeded Lady Red Devils scored 17 straight first-quarter points to take control of Tuesday's Class A quarterfinal against sixth-seeded River View and never looked back in a 75-34 victory at the Charleston Coliseum.
"We came out on fire, which I was a little surprised being in such a bigger arena," Red Devils' coach Kevin Boak said. "Everybody I'd talked to said don't panic if they don't shoot well and you see air balls in the first quarter. None of that happened. They were really prepared and came to play today."
Calhoun (14-4) advances to a semifinal Thursday against No. 2 seed Cameron.
Red Devils' junior guards Josie Montgomery and Savannah Cunningham showed early and often why they entered the team's top two scorers combining to average more than 36 points.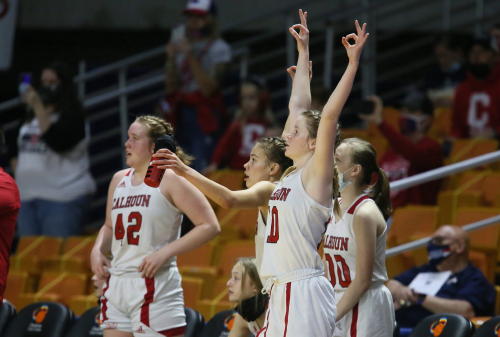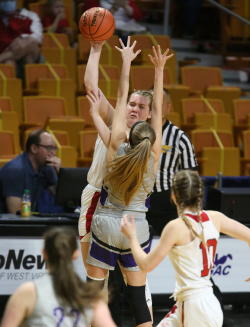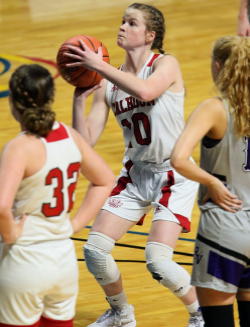 The duo nearly reached that mark by halftime against the Raiders (15-3), who entered having won seven straight.
Montgomery scored 15 of her 17 first-half points in the opening quarter, while Cunningham added 10 to stake Calhoun to a 28-10 lead. Montgomery and Cunningham combined for four three-pointers during the early 17-0 surge.
"That changed the momentum of the game," Raiders' coach Gehrig Justice said. "From that point on, we were scrambling to fight back and Calhoun just kept their foot to the pedal."
Cunningham and Joselynn Yeager scored six points apiece in the second period and the Red Devils led 44-19 at halftime.
Having rallied from a large deficit to win its sectional championship against Gilmer County, Boak's team discussed preventing it from happening to them during the break.
"We kept talking about how we'd done it before so anybody else could do it," Cunningham said.
Calhoun outscored River View 17-7 in the third quarter to put any thought of a Raiders' rally to rest.
The Red Devils also dominated the boards, out-rebounding the Raiders 53-26. Calhoun's 25 offensive rebounds nearly matched River View's team total.
"Calhoun really attacked the glass hard and outworked us for position," Justice said.
Calhoun generated plenty of offense from its defense, utilizing full court pressure to force 12 turnovers in the opening half and 22 for the contest.
Montgomery finished with 24 points, 12 rebounds and six steals, while Cunningham had 23 points and four steals.
"Whatever I do on defense is really what helps make my offense," Montgomery said.
Yeager contributed a double-double of 16 points and 13 boards. Kaylin Parsons gave Calhoun a third player in double figure rebounding with 11.
"It was a big focus, because I thought if we rebound well, we win this game," Boak said.
The Raiders made only 7-of-37 field goal attempts after the first quarter. Trista Lester led River View with 11 points.