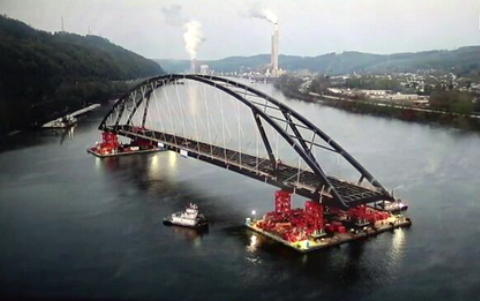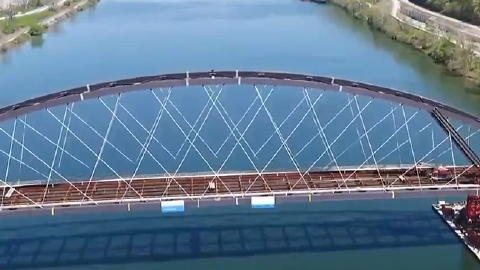 History was made in the Ohio Valley today, as a massive
project floated down the Ohio River and raised in place
Courtesy of wtov9.com
History was made in the Ohio Valley on today, Monday, April 26, as a massive construction project floated down the Ohio River and was raised in place.
The Wellsburg Bridge structure has reached its permanent location.
"Very excited," said Adam Mathews, senior operations manager, Flatiron Construction. "I've been a part of this since 2017. This day was a long time coming."
Years for some, others for decades, the hopes of a Wellsburg WV-to-Brilliant OH, bridge coming to fruition at one point seemed like an impossibility.
"It seems like yesterday I was here whenever we kicked this project off," West Virginia Department of Highways District 6 Engineer Tony Clark said.
Today it's a reality.
For Flatiron crews and transportation officials, the work has nearly just begun.
The bridge has reached its first of two real milestones for completion, as the 4,100-ton structure floated more than 1 mile down the river, beginning just after 6 a.m. and reaching its destination just after 9 a.m.
"It is a massive move," Clark said.
The lift followed. The bridge is 830 feet long and weighs 80.2 million pounds. It was carried on four barges, turned 90 degrees, and is in the process of being lifted 81 feet and shifted on to its permanent pier base.
Yet there's still more than a year of work to be done.
"Once the main span is up there, we still have the West Virginia approach band to erect, then we have to put concrete across the whole bridge, and then some work left on the West Virginia side to widen the road. So, there's still quite a bit of work left to be done once its up," Mathews said.
The final structure will have a concrete base, and span three lanes. Two of them will be used for traffic. The other for walkers and bikers.
The completion date for the $140 million bridge project is slated for October 2022.