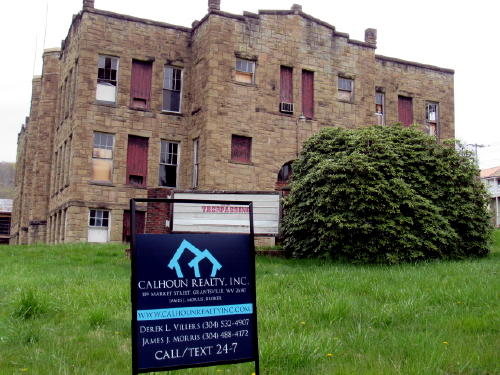 Old Calhoun County High School had
several owners since its closing in 1998
The current owner of the old Calhoun County High School in Grantsville is seeking to sell the building.
George Kusner, retired from the US Navy, and his wife Sherry, residents of Ligonier PA, purchased the site about 13 years ago, with intentions of preserving the historic structure.
Recently he put a new roof on the building, and making structural improvements.
It is being offered for $225,000, according to the Calhoun Realty Facebook page.
Local resident Shirley Fitzwater originally purchased it at a school board auction, which had little interest, buying it for less than $20,000.
Fitzwater and the Calhoun Commission made serious efforts to utilize the building to create jobs.
He then sold it to former Calhoun resident Hagan Richards, who jointly owned the structure with his son, Dan, a California real estate developer.
Richards worked diligently on the building and made an effort to raise $1 million dollars to complete the project.
A Maryland physician purchased Calhoun County High School with another high school, likely as a tax write-off, and then sold them.
Dr. Charles Folashade suggested a number of uses for the facility, like housing, a hunting lodge, museum or school for nursing students.
It then sold it on e-bay for $160,000.