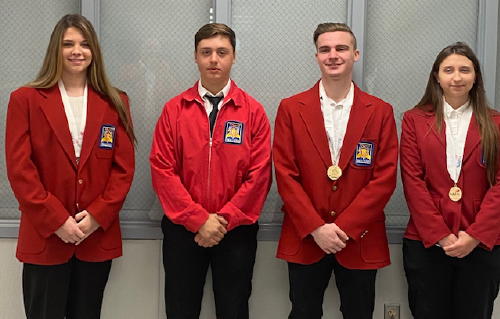 (L-R) Kaylin Parsons, Jaden Swearingen,
Jesse Kargol, and Amber Hatfield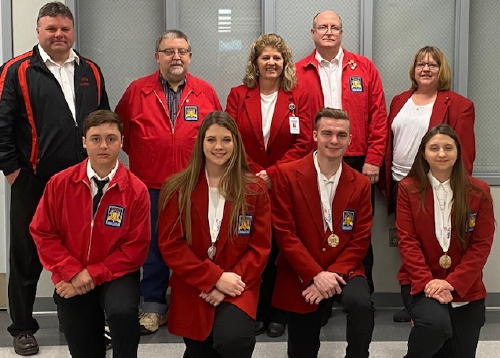 (Front L-R) Jaden Swearingen, Kaylin Parsons, Jesse
Kargol, and Amber Hatfield; (Back L-R) Paul Parsons,
Jim Snyder, Shirley Hupp, Carl Collins, Ronda Williams
The annual WV SkillsUSA State Conference was held virtually on April 1st across the state. Career Technical Education Students from all over the state competed in events from their chosen field of study. Winners received gold, silver and bronze medals. The Gold Medal winners have the opportunity to compete at the national level during the summer. Calhoun-Gilmer Career Center had five students to participate.
Students competing were: Carpentry-Adrianna Brannon, Auto-Jaden Swearingen, Welding (Gold medal) Post-Grad division-Amber Hatfield, Welding Sculpture (Gold medal) Post-Grad division-Jesse Kargol, Health Occupations – Medical Terminology (Silver medal) High School division-Kaylin Parsons.
The students spend a great deal of time preparing for this competition. They would like to extend their appreciation to their instructors for their assistance this year. Teachers sponsoring the students this year were: Auto-James Snyder, Carpentry-Paul Parsons, Health Occupations-Ronda Williams, and Welding-Carl Collins.
Submitted by Calhoun Gilmer Career Center, Assistant Director, Shirley Hupp