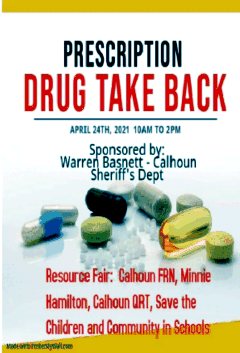 Calhoun Sheriff, Warren Basnett and Family Resource Network, are sponsoring Prescription Drug Take Back Day, Saturday, April 24th.

Residents can drop unused, unwanted, and expired pills at the Sheriff's Office between 10 a.m. and 2 p.m. This is an anonymous drop-off.

Please leave all medicines in their original containers, if possible.

WHAT TO BRING TO THE COLLECTION

* Expired or unwanted prescription medications
* Unneeded over-the-counter medicines
* Drugs that didn't work for you, a family member, or pet
* Drugs that are no longer used
* Medicine from deceased family members
* Unknown tablets and capsules

The Prescription Drug Take Back day provides a safe way for our community to dispose of the unwanted medicines they have in their homes. This effort will help to eliminate a major source of abused prescription drugs, and reduce the hazard they pose to families in a safe, legal, and environmentally sound way.

For more information on this event, please contact the Sheriff's Department at 304-354-6333 or the Calhoun County Substance Abuse Coalition/Calhoun Family Resource Network at 304-354-7177.