Six Calhoun-Gilmer Career Center students representing both Calhoun and Gilmer Counties competed at the West Virginia Technology Student Association (TSA) Virtual State Conference, on March 24th and 25th. Students prepared for weeks, and the fruits of that hard work were revealed at the Awards Ceremony held on April 9. In celebration of the inaugural year for the CGCC TSA Chapter, the chapter provided lunch for the CGCC Staff before the Awards Ceremony. A delicious meal of pizza, home-cut and seasoned coyote fries, and salad was prepared by the Coyote Beautiful Simulated Workplace culinary team; TSA members assisted.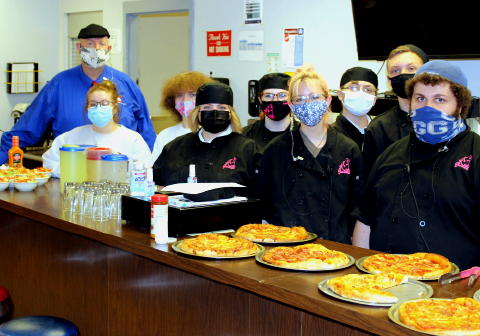 Pictured are Chef Instructor, Jonathan McCormick, Daisy
Snyder, Ryan Carpenter, Tori Arnold, Kyla Jean Lovejoy,
Rhianna Radclif, Nicholas Rubel, Danny Kargol, Gabe Metz
The Technology Student Association members participating in this year's State TSA Conference are pictured below with their advisor, Mrs. Virginia McCormick.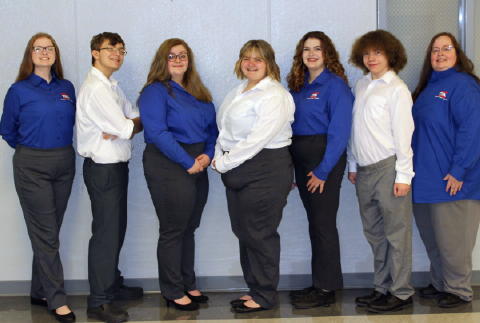 Pepper McCormick, Nicholas Rubel, Daisy Snyder, Tori Arnold,
Kyla Jean Lovejoy, Ryan Carpenter, & Advisor, Virginia McCormick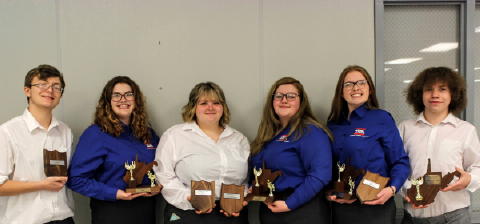 Group photograph with trophies, Nicholas Rubel, Kyla Jean Lovejoy,
Tori Arnold, Daisy Snyder, Pepper McCormick, and Ryan Carpenter
To add to the excitement of the afternoon, CGCC TSA was awarded 3rd Place in Outstanding School, Level II/High School Division. It is a great honor to receive this award in the first year as a TSA Chapter.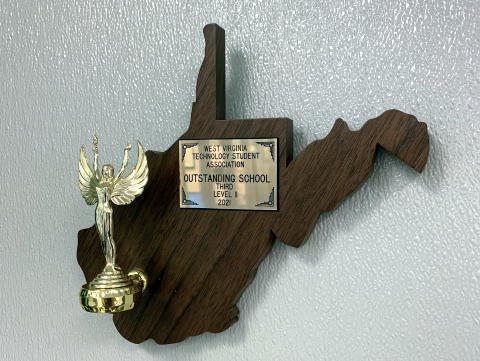 Outstanding School Trophy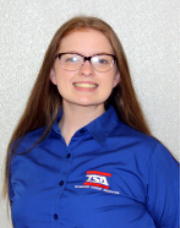 At the end of the Awards Ceremony, next year's WV TSA State Officers were announced. Calhoun-Gilmer Career Center is excited to announce that Pepper McCormick (right) was elected as the 21-22 TSA State President. We know that Pepper will represent CGCC well during her term as State President.
Tori Arnold, Ryan Carpenter, Jean Lovejoy, Pepper McCormick, Nick Rubel, Daisy Snyder will attend the National Technology Student Association Conference, held virtually this year, and will compete against high school students from all over the United States, Germany and Turkey.MP> Advisor Virginia McCormick had this to say, "This is the first year that CGCC has had a TSA Chapter, and our students have exceeded my wildest expectations. I am very proud to be their advisor and appreciate all of their hard work."
The TSA students would like to extend a special thank you to Mrs. Hupp, CGCC Assistant Director for presenting awards.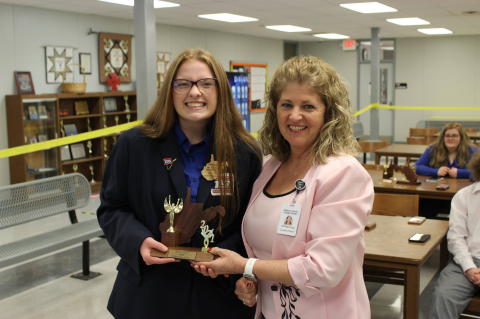 Pepper McCormick with Mrs. Hupp, CGCC Assistant Director