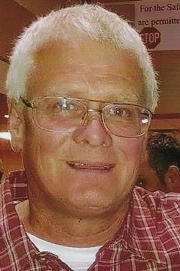 Eric B. Williams, 61 of Third Run Road, Glenville WV, departed this life unexpectedly in the evening hours of Sunday, April 11, 2021 at his home while working outside.

He was born February 19, 1960 in Grantsville WV, son of Doris Ann Francis Williams of Third Run, and the late James Franklin Williams.

Eric is a graduate of Gilmer County High School, class of 1978. He worked much of his life as a contractor in the construction industry, but his true passion was being the Owner/operator of the Williams Fur and Trapping Supply shop. In his spare time he enjoyed hunting, fishing, trapping, camping, and was an avid outdoorsman. He also loved spending time with family and friends, and living the quiet life in the hills of West Virginia.

Surviving are 3 children, Amber Williams of Salem WV, Erica Williams and Nick Williams both of Glenville; 2 sisters, Denise Duncan of Charleston WV and Leslie Reedy (Jarrett) of Wheeling WV; and 1 brother, Douglas "Chester" Collins of West Virginia.

Also surviving are a host of nieces, nephews, cousins, and many other wonderful family and friends.

Along with his father, Eric is preceded in death by a brother Barry Williams.

A funeral service will be conducted at the Ellyson Mortuary and Cremation Services, Inc., 2 Vanhorn Drive, Glenville WV, at 1:00 p.m. Thursday, April 15, 2021 with Pastor Bryan Groves officiating. Burial will follow in the Mt. Zion Cemetery in Calhoun County, where he will be laid to rest beside his brother Barry. Friends will be received from 12:00 noon until the time of the service Thursday at the mortuary in Glenville.

In accordance with the mandates set forth by the State of West Virginia, masks or some kind of facial covering must be worn inside the mortuary establishment at all times and social distancing must be observed.

Ellyson Mortuary and Cremation Services, Inc., is honored to assist the family of Eric B. Williams with arrangements.