The West Virginia Department of Health and Human Resources is now reporting more than 7,084 active COVID-19 cases in the Mountain State, nearly 2,000 more active cases than the 5,157 reported just under a month ago on March 12.

West Virginia health officials reported 479 new COVID-19 cases in the past 24 hours as of April 9, with 145,299 total cases throughout the pandemic.

Two additional deaths bring the total to 2,737 total deaths across the Mountain State.

Calhoun appears to have 12 new cases this week.

Covid cases are on the rise in many US states, likely due to the variant that has arrived, including WV.

It appears Calhoun has 10-12 new cases so far this week.

While Gov. Jim Justice says "Vaccinate, Vaccinate, Vaccinate," some epidemiologists believe WV will not be able to reach the 85% for herd immunity, citing dozens of conspiracy theories circulated on the internet, many of them politically driven.

A state report now indicates that Calhoun has a 28.7% immunization rates with the State of WV having a 36% rate.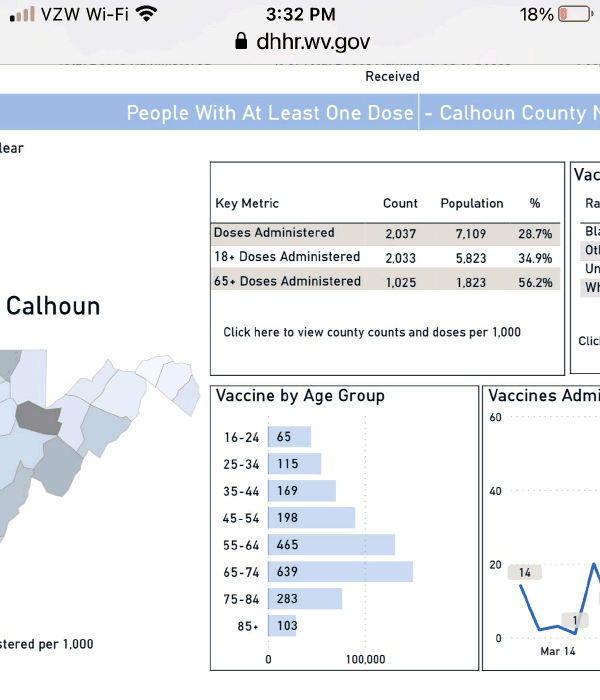 Social scientists have said that many West Virginia mountain people "Have never seen a conspiracy theory they didn't like."

A new national study finds that more than 1 in 3 COVID-19 survivors have been diagnosed with neurological or psychological conditions.

Officials also report 280 West Virginians are currently hospitalized with the virus, 87 of those patients are in the ICU and 17 are on ventilators.

Currently, a total of 433,823 West Virginians have been fully vaccinated against COVID-19 and 645,541 people have received at least one dose of the vaccine. West Virginians can preregister for a COVID-19 vaccine at vaccinate.wv.gov.

The cases per county include:

Barbour (1,328), Berkeley (11,144), Boone (1,814), Braxton (847), Brooke (2,078), Cabell (8,503), Calhoun (260), Clay (425), Doddridge (528), Fayette (3,143), Gilmer (732), Grant (1,219), Greenbrier (2,552), Hampshire (1,661), Hancock (2,667), Hardy (1,413), Harrison (5,282), Jackson (1,848), Jefferson (4,198), Kanawha (13,572), Lewis (1,124), Lincoln (1,374), Logan (2,975), Marion (4,025), Marshall (3,214), Mason (1,912), McDowell (1,448), Mercer (4,452), Mineral (2,702), Mingo (2,355), Monongalia (8,803), Monroe (1,037), Morgan (1,044), Nicholas (1,429), Ohio (3,950), Pendleton (674), Pleasants (826), Pocahontas (626), Preston (2,772), Putnam (4,687), Raleigh (5,880), Randolph (2,476), Ritchie (648), Roane (556), Summers (741), Taylor (1,170), Tucker (521), Tyler (667), Upshur (1,804), Wayne (2,785), Webster (451), Wetzel (1,203), Wirt (371), Wood (7,518), Wyoming (1,865).

West Virginians may pre-register for their COVID-19 vaccination at vaccinate.wv.gov.