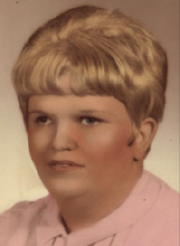 Sharon Ann Clemons age 69 of Glenville WV, departed this life on Monday, April 5, 2021 at the Genesis Health Care Glenville Center following an extended illness.

She was born June 9, 1951 in Gilmer County WV, daughter of the late Els R. and Frances Trembly Clemons.

Sharon was a baby sitter in the child care industry and enjoyed living the simple life in Lewis and Gilmer County. In her spare time, she enjoyed listening to music and tending to her flower garden.

She is survived by 3 siblings, Judy Collins (Michael), Lisa Jenkins (Larry), and Harry Clemons all of Glenville, and a host of nieces, nephews, cousins, and many other wonderful family and friends.

A graveside service will be conducted at the Stalnaker Cemetery in Glenville at 1:00 p.m. Friday, April 9, 2021.

Ellyson Mortuary and Cremation services, Inc. of Glenville, is assisting the family of Sharon Ann Clemons with arrangements.