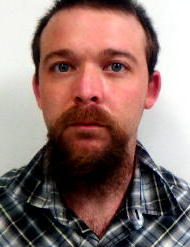 Calhoun authorities arrested Bryant James Hall, 31, of Jakes Fork, Wednesday, charging him with attempting to commit a felony, related to the attempted strangulation/suffocation of his alleged girlfriend.

He is in Central Regional Jail with bond set at $50,000 cash.

State Police and the Calhoun Sheriffs Department responded to a 911 call indicating there was a suspicious man at Chi-Tis Convenience Store, Grantsville.

The criminal complaint says they found Kristin Dawson in distress, crying with red marks on her body.

Dawson maintained the encounter was only verbal.

Officers viewed survielence recordings from the store that showed Hall attempting to block the woman's vehicle as she was trying to leave the store.

The recording shows Hall getting in the victim's car, holding her down by the neck while she struggles, according to the complaint.

At one point the victim exited the car appearing to yell for help.

Hall then placed his hand over her mouth attempting to quiet her, but discontinued when a vehicle went by the store.

The criminal complaint was filed by Trooper E. E. Taylor.