UPDATE - State fire investigators say a Roane County fire on US 33/119 last Saturday is not considered suspicious.

The fire left two people dead and a third recovering in the Cabell Huntington burn unit.

Deputy State Fire Marshal Jason Baltic said the fire had fully engulfed the house as a man and woman were evidently trying to reach the door. Quick thinking and bravery of an off-duty Roane County deputy and a neighbor saved her.

"Had it not been for them, she definitely would not have made it," Baltic said.

The man who was pulled form the burning home was dead at the scene and the body of another man was discovered in the ashes of the fire after it was out.

"Due to the amount of damage, we've narrowed it to an area in the house where there were different appliances, but we're not able to actually figure out an exact cause," he explained.

Funeral arrangements for the deceased men are pending.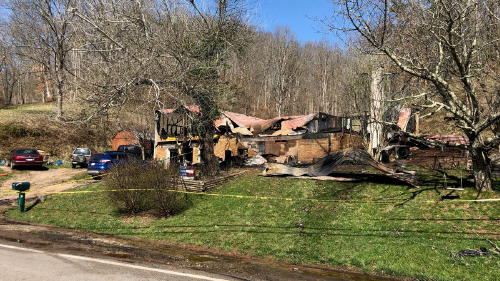 3-21-2021 - A fire took the lives of two males about 6 a.m. Saturday in Roane County.
A female injured by the fire was taken to a medical center.
The fire was located about 10 miles west of Spencer US 33-119.
The bodies of the deceased males have been taken to the WV Medical Examiners Office to determine the cause of death.
The Spencer-Roane VFD responded to the scene.
A passerby reported the fire to dispatchers.
Jody Ratliff, the Roane County EMS Director, said an off duty deputy was able to pull two people out of the burning building with the help of bystanders.
Seven people usually live in the home, but four were not there at the time of the fire, according to Jason Baltic, State Fire Marshal. Crews were also able to locate the remains of one dog, but two are unaccounted for.
Baltic said there were no working smoke detectors in the residence.
"These things save lives. It's proven. They save lives," he said.
The cause of the fire is under investigation.