Greta "Irene" Conrad will celebrate her 90th birthday on Sunday, April 4th. A card shower is planned in her honor. Cards may be sent to her at
Irene Conrad
186 Hospital Drive
MHHS Long Term Care, Room #306
Grantsville, WV 26147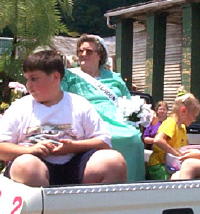 Irene is pictured right as Calhoun County's WV State Folk Festival 2001 Belle.
Irene was born April 4, 1931 in Calhoun County WV, the daughter of Hamilton "Keith" and Rosie Richards Kendall.
She married Pete Conrad in 1949; who passed away suddenly in 1980.
She has two daughters, Barb Conrad of Oak Hill, and Janet Heiney of Stumptown. Four grandchildren, April (Bryan) Hinkle of Canvas, Andrea Brogan of Summersville, Keith (Cari) Heiney of Letart, and Jessica (Shaun) Snodgress of Grantsville. She is blessed to have 15 wonderful great-grandchildren.
Since we can't be together
To celebrate the day
Let's celebrate
In a different way
If you'd like
Please mail a card
And as they arrive
Day by day
She'll feel your love
From far away!
Please join us in wishing our Mom and Grandma a very happy 90th birthday and seeing if we can get her up to 90 birthday cards!