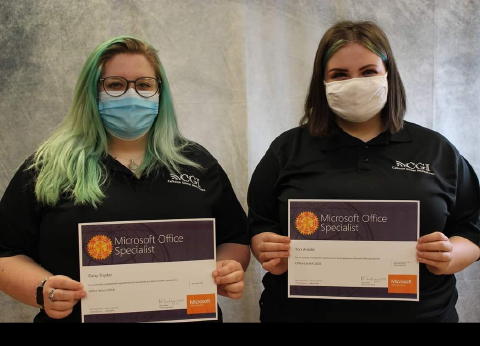 Daisy Snyder (left) and Tori Arnold
At the end of CTE Month (Career and Technical Education Month) Calhoun-Gilmer Career Center's Innovations Simulated Workplace would like to recognize Daisy Snyder and Tori Arnold for their achievements in Business Computer Applications.
Daisy Snyder, a Sophomore at Gilmer County High School, is taking Business Computer Applications I and has earned her Microsoft Word Specialist Certification.
Tori Arnold, a Senior at Calhoun County High School, has completed Business Computer Applications I and is taking Business Computer Applications II. Tori has earned Microsoft Office Specialist Certifications in PowerPoint, Word, and Excel. Tori's goal is to achieve her Microsoft Master Certification by the end of this school year.
Both Daisy and Tori have been nominated by their instructor, Mrs. Virginia McCormick, to be inducted into the National Technical Honor Society.
The Career Center offers, "Congratulations on your achievements, Daisy and Tori!"