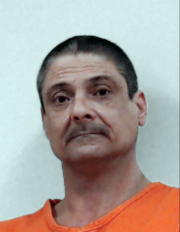 The West Virginia State Police and the Calhoun Sheriffs Department arrested a man Thursday in Arnoldsburg, charging him with a drug offense.

David Jason McCumbers, 48, was felony charged with delivery of a controlled substance and possession with intent to deliver meth by State Trooper E. E. Taylor.

He is being held in Central Regional Jail on $50,000 cash bond.

Officers executed a search warrant on the McCumbers residence, he failing to answer the door, after which the residence was breached, according to the criminal complaint.

They discovered baggies of marijuana and a baggie determined to be crystal meth, in addition to a syringe, gun, ammo, and scales, according to the complaint.

A female at the residence said she was hired to clean and do odd jobs, and gave a mirandized statement to officers.