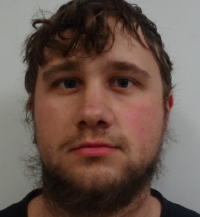 State Police arrested Nathaniel Austin Keener, 18, of Big Bend, Wednesday night.

He is facing six charges.

He has been charged with domestic assault and battery, assault on an officer, brandishing a deadly weapon, fleeing from an officer, and obstructing an officer.

A criminal complaint says officers responded to a residence and attempted to detain Keener, after a domestic dispute over child custody.

The complaint says Keener, having disputes both verbal and physical, was angered when the child's mother appeared to take custody at a designated time.

Keener, according to the complaint, said he would "cut everyone's throat before he would let anyone leave with his baby," after which the mother was able to leave with the infant.

Keener was attempting to leave the scene, when Calhoun Sheriff Warren Basnett and a deputy arrived and was blocking his departure, backing toward the sheriff and pulling forward striking a porch.

When officers were attempting to detain him, he resisted and was taken to the ground, according to the complaint, an officer was struck in the leg.

Keener, according to the complaint, had suffered cut wounds to his hand, saying he struck a rear view mirror.

He is in Central Regional Jail.