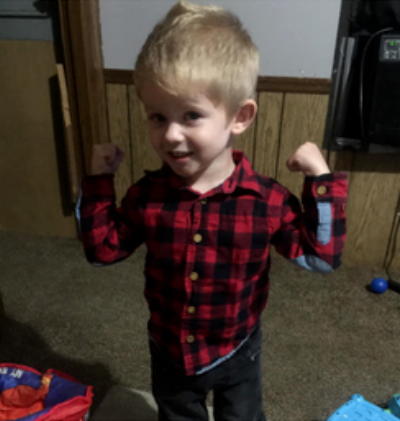 3-year-old, Kyran died after suffering extreme
physical abuse by his stepfather, Samuel Thomas
Workman (photo courtesy of family)
West Virginia State Police said a 3-year-old boy who died in Braxton County had signs of extreme physical abuse on his body, and the stepfather charged in his death had blood all over his clothes and visible wounds on both hands and knuckles.
The stepfather claimed he returned to the trailer after smoking marijuana and found the child unresponsive.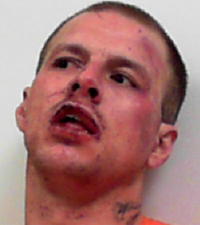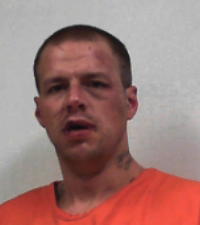 Samuel Thomas Workman, 33 (above) of Sutton is charged with death of a child by a parent, guardian or custodian or other person by child abuse and child neglect resulting in injury, according to a criminal complaint filed in Braxton County Magistrate Court.
The criminal complaint said a trooper was notified Tuesday about an unresponsive child at Rowans Trailer Park. When EMS arrived, the 3-year-old along with another 1-year-old were found in the trailer with Workman.
Braxton County 911 told the trooper that Workman made the call to 911, but he had left the trailer when EMS arrived and showed up later at the emergency room at Braxton County Memorial Hospital.
At the hospital, attempts to revive the 3-year-old boy were unsuccessful. State Police said the child had visible bruises and trauma all over his body, including swelling to his face, head, chest back and arms along with other wounds that indicate extreme physical abuse.
The complaint said the trooper noticed at the hospital that Workman had wounds on his knuckles and hands and blood on his clothes.
During an interview with State Police, the complaint said, Workman said he had left the trailer and traveled to another person's home to smoke marijuana and that the child was left alone at the trailer. He claimed he found the unresponsive boy when he returned and attempted CPR for about 20 or 30 minutes before calling 911.
Workman was arrested at the Sutton detachment and was transported to Central Regional Jail, where he is being held on a $250,000 cash only bond.
State Police said Workman had prior arrests for domestic assault and battery, drug charges, resisting arrest and several counts of retaliation against a public employee.
A GoFund me account has been set up to pay for the funeral expenses of the 3-year-old boy. Meanwhile, State Police said the other child who was found in the trailer, a 1-year-old, has been placed in a secure location.