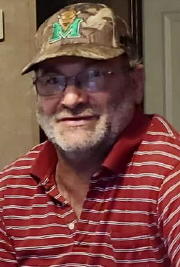 Thomas Wayne Wilson, 55, of Spencer WV passed away on December 23, 2020.

Tom is survived by his parents, Bill and Sandy Shreve of Spencer; his sons, Thomas Dalton Wilson and Logan Wayne Wilson; and stepdaughters Rain and Sage Orndorff and Tara Miller; his grandmother Pansey Sutphin; his twin brother, Tim Wilson and his brothers William Shreve II, Chris Shreve, Kevin Shreve and Brian Shreve.

He is also survived by a half-brother, Rick Ash and half-sisters Ranell Ash Windland and Marty Carte.

Tom was born on December 12, 1965 in Parkersburg WV. Tom became an avid outdoorsman and enjoyed sports, whether it was playing, coaching or watching. Tom (Stokes) was a 1984 graduate of Spencer High School. Upon graduation Tom chose a career in the oil and gas industry and realized very quickly that he had found his perfect job.

He was a devoted father and loved spending time with his children. His quick wit and sense of humor would lighten any conversation. His family, friends and his faith were his simple treasures.

Tom was preceded in death by his stepson, Josh Simons, grandmother "Mom" Gertrude Shreve and his grandfathers, Hank Shreve and Jack Sutphin.

A graveside service will be held at 1:00 p.m. Thursday, January 21, 2021 at the Greathouse Cemetery on Triplett Road near Spencer with Pastor James Epling officiating.

Taylor-Vandale Funeral Home in Spencer is in charge of the arrangements.