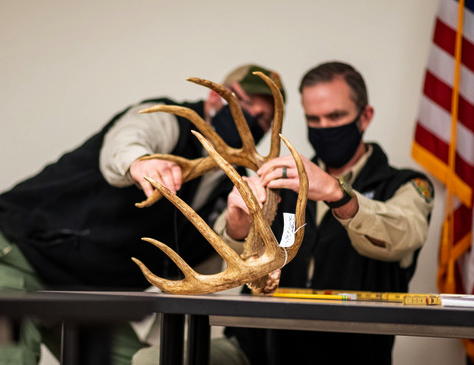 Photo courtesy of Gov. Jim Justice's Office and WCHS
A trophy buck taken in Wyoming County in 2020 ranks as one of the top 10 biggest Pope and Young-class deer taken in North America.
The buck ranks No. 9 in North America in the past 20 years and surpassed West Virginia's state record, according to a news release from the governor's office. The 12-point trophy buck was taken in November by Jody Dalton, a Princeton native.
"I always say West Virginia is the best state in the nation and the outdoor opportunities found here are unbeatable. Today's record-breaking buck scoring is proof of that." Justice said in the news release. "I'd like to congratulate Mr. Dalton for his impressive buck harvested in West Virginia's very own Wyoming County. It is a beauty. I'd also like to thank the DNR, which has acquired 70,000 acres of land in the last four years to give folks more room than ever before to roam the state's hills and valleys on their hunt."
The West Virginia Division of Natural Resources scored the buck during a virtual event.
The Pope and Young Club is one of North America's leading bowhunting and conservation organizations, according to its website.