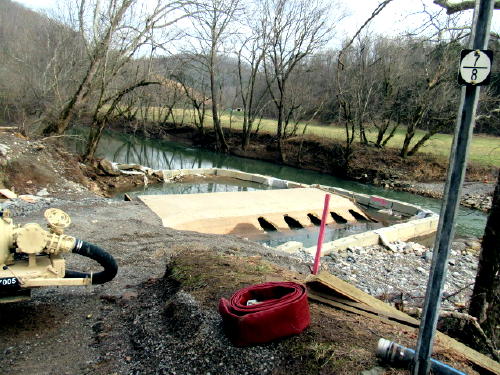 Collapsing low water Raccoon Run bridge finally fell
into river last May, with a fix promised by October
By Bob Weaver
Jeff Annis, a resident of Raccoon Run off Russet Road has been stranded for nearly two years getting a vehicle to his property, the long failing Raccoon Run low-water bridge finally collapsing last May following years of falling apart into Steer Creek.
Foot access is still barely available across a swinging bridge that would likely send chills up most folks spine, a crossing that Brenda Annis has tried to use to reach work as a registered nurse. Some people crawl across it on their stomach.
See original photos on additional story: Raccoon Run Low Water Bridge Being Replaced
Another family lives on the backwoods road, with 17 property owners and a number of hunting cabins.
Annis purchased a house and farm on Raccoon in 2013. "Getting responses from the WV Department of Highways has been absent," although the department announced a low water bridge replacement last August with a completion date announced for October, 2020.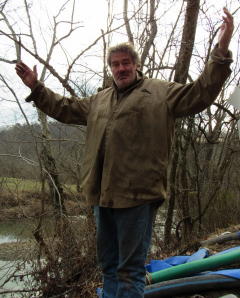 Jeff Annis (right) says we've mostly lacked for nearly two years, and he is "Mad as hell" Annis said, "Nothing has been done since December."
Annis was aware that West Virginia ranks high in the USA with dilapidated bridges, "But trying to live and work here has become insane."
The Annis' did just hear from a district engineer who indicated the project ran out of money ($300,000) and another $300,000 is needed, saying "That is a lot on money for a few houses," saying work will continue in the spring.
Annis responded by saying, "Our lives don't matter," having reached out to just about every agency in the state. "We could not be reached in case of emergency."
"This long term problem has worn me down," indicating he is mad as hell.