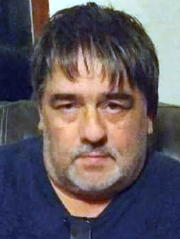 Daniel H. Smith, 54 of Sand Fork WV, departed this life suddenly in the lot behind his house on the afternoon of Sunday, January 10, 2021.

He was born December 24, 1966 in Grantsville WV, son of the late Charles Hubert and June E. Stout Smith.

Daniel was a mechanic at Tomblin's Service Station in Sand Fork for several years. He enjoyed riding 4 wheelers, fishing, and listening to music. Daniel loved tinkering, spending time with family and friends, and spoiling his grandchildren, whenever possible.

On March 4, 2007 Daniel was united in marriage to Amy Black Smith who survives at their home in Sand Fork.

Also surviving are 7 children, Daniel L. Smith of Glenville, Danielle Smith of Spencer, Bethany Peters of Myrtle Beach SC, Savanna Smith of Sand Fork, Aleah Smith of Sand Fork, Franklin Cunningham of Sand Fork, and Kiara Cook (Christopher) of Glenville; and 3 siblings, Jack Smith (Paula) of Perkins, Debbie Smith of Oklahoma, and Charlene McKinley of Fairmont; and 6 grandchildren, numerous nieces, nephews, cousins and many other wonderful family and friends.

Along with his parents, Daniel is preceded in death by his sister, Judy Smith and nephew, Jamie Smith.

A Graveside Service will be conducted at the Hiney Cemetery in Linn WV at 12:00-noon, Friday, January 15, 2021 with Pastor Bryan Groves officiating.

In lieu of flowers the family request contributions be made to Ellyson Mortuary, Inc. 2 Vanhorn Drive, Glenville WV 26351, to help with Daniels funeral expenses.

Ellyson Mortuary and Cremation Services, Inc. is assisting the family of Daniel H. Smith with arrangements.