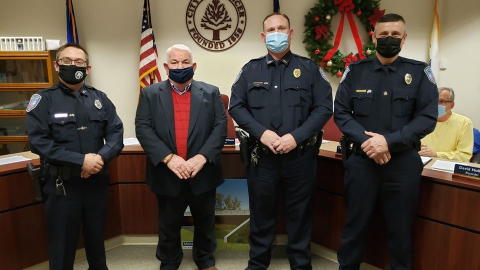 Pictured left-right: Corporal Jeff Starcher, Spencer Mayor
Terry Williams, Chief John Hill, and Captain Todd Cole
Spencer WV Mayor Terry Williams says, "The Spencer Police Department has been fortunate to have many dedicated officers during my tenure as Mayor. Being a police officer is certainly not an easy position at times, and requires a special type of public servant. I've always enjoyed working closely with our officers to provide for the needs of the department."
This past Thursday was an important day for the Spencer Police Department. I was accompanied by Chief John Hill as I swore in Captain Todd Cole and Corporal Jeff Starcher; two experienced and respected members of law enforcement. Chief Hill is working with our officers to keep our town safe and to protect and serve the community, which is a priority of mine.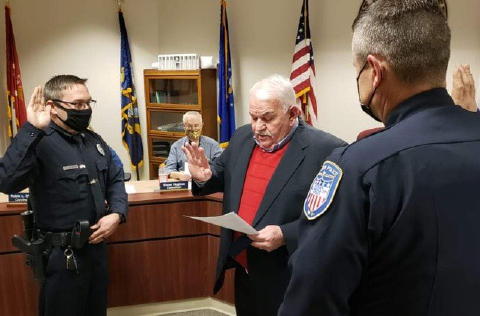 Spencer Mayor Terry Williams (in red) leads new Cpl. Jeff
Starcher (left) and Capt. Todd Cole in the oath of office.
Mayor Williams continues, "The City may add another full time officer this year to better address the needs of our citizens. I want to thank Chief Hill, and all of our officers, for the work they do that sometimes goes unnoticed. Thanks for your dedication and your service, and please join me again in welcoming Capt. Todd Cole and Cpl. Jeff Starcher to the City of Spencer Police Department."
Corporal Starcher tells the Hur Herald that Spencer officers work 4, 10 hour shifts per week, allowing him to also join Calhoun Deputy Sheriffs Jason Chang and Wiley Raines as a part-time Grantsville Municipal Policeman.