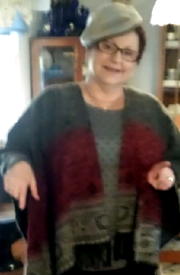 Paula Mazzagotte's battle with COVID 19 ended on Monday, December 14, 2020 at Stonewall Jackson Hospital in Weston WV.

Paula was born April 22, 1955 in Elyria, Ohio. She is survived by her Mother, Maxine Smith, and her son, Anthony Frye both from Glenville WV. She is also survived by her sister, Susan Vrba and Susan's husband John Vrba from Locust Grove VA.

She was preceded in death by her father, James Nelson Smith, her husband Stanley Mazzagotte, her son Joshua Frye, and her aunt, Caroline Cusick, all of Glenville.

Paula worked with her husband Stan in his jewelry business. She also worked at the Glenville Public Library. She was a loving wife, daughter, mother, sister, and niece and her family mourn's their loss.

Because of COVID restrictions there will be no local funeral. A memorial service will be held in Glenville at a future date.

The family asks that in lieu of flowers, donations be made to The American Diabetes Association.

Ellyson mortuary and Cremation Services, Inc. of Glenville is honored to assist the family of Paula Mazzagotte with arrangements.