By Sidney Underwood
2020- For those of you who don't know, my son, Eric, committed suicide on July 29 of this year. He shot himself in the heart with a revolver I left loaded for Judy's protection when I was away. Eric died in our home at Parkersburg.
That morning Judy and I were walking near City Park. Returning home, we found him in the hallway. He had a look of pure serenity on his face. His eyes were closed and he appeared to be asleep. It was only when I saw the blood on the carpet and the revolver against the wall that I realized what had happened.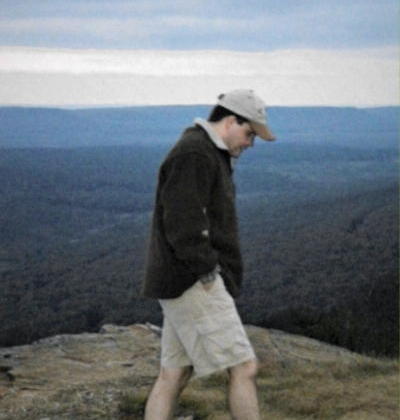 Immediately I called 911. I didn't realize it at the time, but I was talking with Sara Ullum Stalnaker who works at the call center. She was our neighbor when she and Eric were youngsters at Cabot Station. Both were: members of the snake valley club of many years ago...
Almost immediately, our house was full of emergency medical personnel, detectives and city police. Judy and I were huddled in the upstairs living room while they snapped pictures of the scene and awaited the arrival of the county coroner. After the coroner arrived and examined our son, we were asked to go down stairs because they were going to bring him down the steps in a body bag. The coroner was very sympathetic and told us to, hang on and hang in there.
He pulled me aside and informed me that hydrogen-peroxide would remove the blood stains from the carpet, but that I needed to perform the task as soon as possible. That very afternoon when the house was again quiet, I worked on the carpet and managed to remove my son's blood stains.
It was so ironic just a few hours earlier, Eric and I had talked about his returning to Bridgeport and now here I was cleaning his blood from the carpet. I tried to concentrate on the carpet, but my mind kept going back to what happened. Damn it, If Judy and I had stayed home, he would still be alive.
Guilt swept over me like a dark cloud and my tears fell on his blood. I thought about the previous day when he and I worked together putting down a weather proof rug on the lower deck. He seemed to enjoy helping me and I had no warning of what was to come. If I had known, he might be alive today. I suppose I will carry that sense of guilt the rest of my life.
During all this commotion, it was hard for me to describe my emotions. I may have been in shock knowing that my son was gone from me forever. It was a terrible day for Judy as well. I know it will take many months or years for us to accept and understand why Eric killed himself because he left no note behind.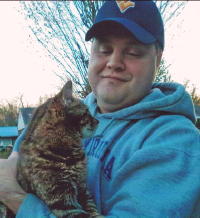 At this writing, he has been gone over four months and I still grieve for him. I promised myself that I would stop counting the days, but I still do. People say time heals all wounds. Perhaps that is so, but I am not yet healed. I carry this big empty space in my heart and the world seems to have changed or maybe it is I who has changed. I seldom smile and find pleasure in nothing that I do.
I must admit there are times when I think Eric's death has caused me to consider ending my life. But, I cannot do that because I must be strong for Judy.
I can tell you that the grieving process is a good way to lose weight. Especially if food has no taste. So far I have lost 10 pounds that I needed to lose anyway. The dark days of winter are coming and they perfectly match my mood. Politics and the current situation concerning the legitimacy of our elections mean nothing to me. For whatever reason I feel this strange detachment when I see others enjoying life. It is like I am thinking people should be happy and making plans but, as for me, life is just about existing and nothing more.
Judy and I attended grief counseling sponsored by Leavitt Funeral Home. We attended 7 of 8 sessions and that was helpful. Just seeing other families going through the same process helped us cope with the myriad of feelings from anger to acceptance.
But the hurt continues and when I think of Eric being only 42 years old, just a pup, really, especially considering my age of 78, I can't help but wonder if his life was wasted on a spur-of-the-moment decision to kill himself. As for me, I have thought about July 29th many times and my sense of guilt simply does not go away. Eric was raised up with guns and he certainly knew where we kept the revolver. I now believe it was wrong of me to keep a loaded gun in the house in the first place. That loaded gun will forever haunt me. It has been unloaded and placed in the safe. I keep it because it was the last thing Eric touched.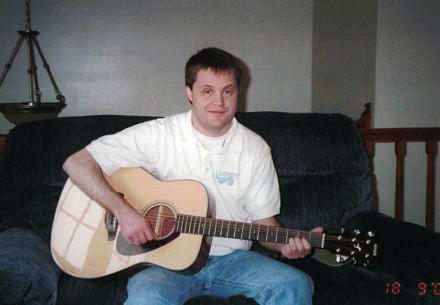 The latest research shows that over 48000 people in the United States die by suicide each year. Predominantly they are white middle aged men in their 40's and 50's. That is a sad statistic.
Eric and I did everything a father and son can do together. I feel like I lost my best friend, my closest confidant and critic. He was the one person I could trust to share my deepest secrets with. And so I go on alone with my memories of him. His memory will always be with me until my life ends or I lose my mind.
When he was little, I recall Eric sitting on my lap and steering the car on the back roads of Ritchie County. Many times he steered the car from Washburn to Pullman with me taking the wheel only when we met traffic. Then when he was older we biked the Rail Trail, Greenbrier River Trail, and hiked the hills of Doddridge County together. I remember we would stop under a shade tree and eat a small lunch of nuts and fruit.
My memories include riding our bicycles from Cabot Station up the road to Shirley Hosey's house on summer evenings and sitting on his porch. In addition to Shirley, we often enjoyed the dry humor of Larry Morton who always bantered back and forth with Shirley. Often, Eric would tell me that he admired Larry because of his quick wit and sense of humor.
Our daughter, Melanie who lives near Grandview State Park, has stepped in to try to fill the void. Formerly, she called us once a week. Now, we hear from her every night. With two children, a husband and a full time job, somehow she finds the time to do that. I must confess that I look forward to her phone calls.
I know Eric's death was hard for her to accept. I have photo albums of them together over the years when they were preschool, grade school, high school, and college age. Being twins, they shared that special bond. But, Melanie reminds me of my mother in that she is one tough lady and it is her actions that have helped Judy and me in immeasurable ways.
We all knew that Eric was depressed in that he could not find work. He had attended many interviews and had high hopes but it was always someone else who got the job. When he obtained his degree in mechanical engineering, he assumed finding work would be no big deal.
He was loyal almost to a fault and never missed a day of work when employed by Thrasher Engineering of Bridgeport. But, after the first downturn in oil and gas occurred, he and several others were let go. It was then that he decided to get the mechanical engineering degree from Fairmont State University. He job hunted for two years after receiving that degree to no avail. He was offered part time employment, but nothing full time.
So here was an individual who had previously taught 3 years at WVU Parkersburg and prior to that had worked at Alternative Fuels in Morgantown. Those were full time jobs that he had qualified for because of his education level and back ground. And now no one would give him a chance.
Eric's depression was so severe that we obtained the services of a psychiatrist for him. He was seeing her on a regular basis. But because of Covid 19, his recent sessions were by telephone. When she learned of his death, she was shocked as she thought he was stable and doing well.
I had to laugh bitterly when I heard Trump crowing about how wonderful our economy was and how low our unemployment rate was. It is now a different world courtesy of Covid 19. Yes, there were job postings everywhere. But those jobs were minimum wage with no benefits. You will also note that the few good jobs posted with benefits called for 3 to 5 years of experience in a specific field.
I really feel sorry for recent graduates. They are finding that job hunting is now very difficult. One has to ask the question, how is one to get that experience if it is a requirement for the particular job? Businesses such as Indeed and Zip Recruiter check their files for who has the most experience, narrow down the applicant list so the prospective employer can avoid all the steps they used to take. It would appear that employers no longer want to train their new hires and, expect them to hit the ground running with previous experience.
Perhaps it is my son's death that has soured me on the job hunting process of today. My 31 years as a state employee required me to be trained by my actual employer which they did and I was on six months' probation when I signed on. Imagine that happening today! Not likely.
I am retired now and receive a small pension from the state. People who earned a pension like me are a vanishing breed. You have to know that the state would prefer that I die as it would save them money that they could waste elsewhere. Now it is 401K that supposedly will help prepare individuals for retirement and their so called Golden Years.
In time I may come to accept Eric's death and not feel the bitterness of a life cut short. My faith in GOD will help and I have no choice but to accept the reality of losing my son, the only one I will ever have. It seems to be a curse that I will now outlive him.