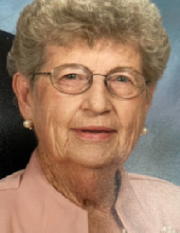 Helen C. Brown, 95, died November 24, 2020 at her home in Winchester, VA.

She was born April 5, 1925 in Rosedale WV, the daughter of the late Forrest G. Carr and Bessie P. McElwee Carr.

She was preceded in death by her brothers, Hobert C. and L. George Carr, and a sister, Betty Jo Hoskins.

A 1944 graduate of Calhoun County High School, she worked in Akron OH at Goodyear Aircraft and attended night school to continue her education. She married Rector S. Brown May 1,1946 in Grantsville WV, following his return from WWII.

They lived in Buckhannon WV where Rec played football and graduated from WV Wesleyan College. They enjoyed 74 years of happy marriage.

Rec's coaching and teaching jobs led them to Spencer WV and then to Melbourne FL before they settled in Winchester in 1964.

She was an active member of Braddock Street United Methodist Church where she served as Sunday school teacher, Administrative Board member, Youth leader and Relief Program volunteer. She was a lifelong member of the Asbury/Jubilee Sunday School Class and active with the United Methodist Women.

Helen worked as a preschool teacher at Braddock Street UM Church for five years and as a teaching assistant at Frederick Douglass Elementary School for 10 years. Upon her retirement, she was an active volunteer with Red Cross, Child-Parent Center, Evans Home for Children, and Salvation Army. While her four daughters were growing up, she was a Girl Scout leader. In addition to volunteer work, she was an excellent seamstress, cook and homemaker.

She is survived by her daughters: Linda Diane Lewis (Leo), Fredericksburg; Betsy B. Newlin (David), Winchester; Sarah L. Ramey (Skeeter), Madison Heights; and Mary L. Browning (Joe), Wilmington, NC. Her grandchildren are April Lewis Millett, Richard Lewis, Christopher Newlin, Bryan Newlin, Travis Ramey, Stephanie Ramey, Hayley Browning Webb and Ivan Browning. A grandson, Benjamin Carr Ramey, preceded her in death. She has nine great-grandchildren.

Because of Covid-19, a private funeral service will be held on Wednesday, December 2, in Mount Hebron Cemetery. Her grandsons will serve as pallbearers.