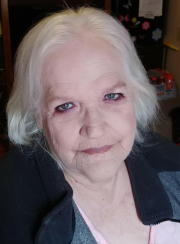 Ruth Jean Rogers 80 of Webster Springs WV, departed this life in the evening hours of Friday, November 13, 2020 at her residence in Webster Springs, following an extended illness.

She was born June 16, 1940 in Nicholas County WV, daughter of the late William T. and Ora Neff Keener.

Ruth was a home health provider and in her spare time she enjoyed, reading, working puzzle books, playing games on the internet, visiting with friends, and spoiling her grandchildren and great-grandchildren whenever possible.

On February 14, 1958 Ruth was united in marriage to her first husband Hallie E. Rogers who preceded her in death on June 18, 1969. In the late 1990's Ruth was united in marriage to Paul Flavey Rogers who preceded her in death on November 8, 2008.

Surviving are 7 children, Nell Collins of Birch River WV, David Rogers of Glenville WV, Caroline Johns (David) of Mt. Nebo WV, Connie Fraley (Chester) of Glenville, Melinda Conn of Woodleaf NC, Gary Collins of Ennon WV, and April Bender (Jerry) of Craigsville WV; and 3 siblings, William Keener (Gloria) of Myrtle Beach SC, Danny Keener of Gulfport MS, and Mary M. Rock of Fayetteville NC.

Also surviving are 14 grandchildren; 21 great-grandchildren; and a host of nieces, nephews, cousins, and many other wonderful family and friends.

Along with her parents and husband, Ruth is preceded in death by her great-grandson, Eli Facemier; and 5 siblings, Charles and James Keener, Ethal and Violet Kenner, and Maxine Friend.

A funeral service will be conducted at the Ellyson Mortuary and Cremation Services, Inc. 2 Vanhorn Drive, Glenville WV at 1:00 p.m. Thursday, November 19, 2020 with Pastor Bob Mylott officiating. Following services, Ruth's request for cremation will be honored.

In accordance with the mandates set forth by the State of West Virginia, masks or some kind of facial covering must be worn inside the mortuary establishment and social distancing must be observed.

Ellyson Mortuary and Cremation Services, Inc. is honored to assist the family of Ruth Jean Rogers with arrangements.