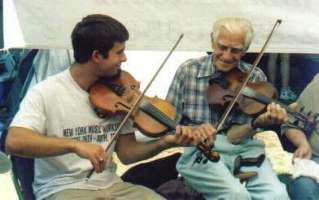 Jake Krack with Melvin Wine
2003
Famous West Virginia fiddler Melvin Wine has died at 93. The Braxton County native has long been acknowledged for his powerful live performances and his willingness to teach and share his music, often with Calhoun fiddler Jake Krack.
He was the recipient of West Virginia's first Vandalia Award in 1981. The fiddler was also awarded the National Endowment for the Arts' prestigious National Heritage Fellowship in 1991.
He had been playing the fiddle for 85 years.
Wine has been honored nationally for his musical skills and his leadership role in an American musical tradition. A farmer, a coal miner, a father of ten children, and a deeply religious man, he has played music from the hard lessons of his own experience and shaped a musical tradition even while passing it to others.
His biography heralds a musician who wants both to communicate the spirit of his mountains and to sway an audience into having an old-fashioned good time. He is the subject of a book by Drew Beisswenger called "Fiddling Way Out Yonder."
A resident of Copen, Braxton County, West Virginia, Wine died Sunday, March 16, 2003, in the Braxton County Memorial Hospital at Gassaway, after a short illness.
He was born April 20, 1909, at Stout Run, Braxton County, a son of the late Robert Wine and Elizabeth Sandy Wine. He was also preceded in death by his first wife, Etta Wine on March 15, 1992, and his second wife, Anna Lucille Sprouse Prunty Wine on September 17, 1997; two grandchildren; and several brothers and sisters.
Melvin was a member of the Copen United Methodist Church for 67 years and a retired coal miner and farmer.
Entombment in the Wine Family Cemetery at Gem.