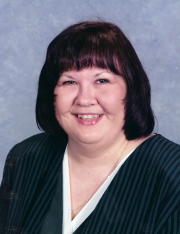 Barbara Lynn "Barb" Lydick age 68 of Glenville WV (Kanawha Drive Community) departed this life in the evening hours of Tuesday, October 6, 2020 at the United Hospital Center in Bridgeport WV following an extended battle with cancer.

She was born August 5, 1952 in Clarksburg WV, daughter of Wilma Virginia "Gin" Lydick of Kanawha Drive, and the late Richard Lewis "Pete" Lydick.

Barb is a graduate of Gilmer County High School, Class of 1970 and is also a graduate of the Clarksburg Beauty Academy. Barb originally worked for Edith Ellyson's Beauty shop in Glenville and later purchased the business and named it the Modern Beauty Salon. She worked as a hair stylist and beautician in the Glenville area for 46 years.

In her spare time, Barb enjoyed babysitting, knitting, crocheting, and making crafts of all shapes and sizes. She enjoyed life to the fullest, taking cruises to faraway places, visiting with family and friends, and was a member of the Kanawha Drive Church.

Along with her loving mother, Barb is survived by 2 aunts, Betty Wright of Glenville and Wilda Woodward of Alexandria VA. Also surviving are a host of cousins and many other wonderful family and friends.

Barb's request for cremation has been honored and a Memorial Service will be conducted at the Ellyson Mortuary and Cremation Services, Inc. 2 Vanhorn Drive, Glenville WV at 2:00 p.m. Saturday, October 17, 2020 with Pastor Donnie Stout officiating.

Cremation Burial will follow in the Meadow Lane Cemetery along Kanawha Drive. Friends will be received from 12:00 noon - 2:00 p.m. Saturday, October 17, 2020 at the mortuary in Glenville.

In lieu of flowers the family requests memorial contributions be made to the  FBC Cancer Fund, 217 East Main Street, Glenville WV 26351   in Barb's honor.

Ellyson Mortuary and Cremation Services, Inc. is honored to assist Barb with her final wishes.