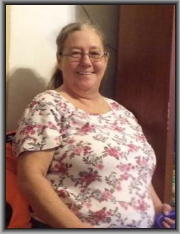 Jeannie Westfall Capps, 50, of Ravenswood, WV, passed away on September 18, 2020, at Camden Clark Medical Center in Parkersburg, WV.

She was born on June 29, 1970, in Grantsville WV, daughter of the late Carl Glen Arthur, and Mary Elizabeth Cozart Reno.

She loved being outdoors, camping, fishing, traveling, and working puzzles. She loved her family and her dog, Dozer.

She is survived by her mother, Mary Reno; 2 sons, Jeffery Allen Westfall, Jr. and Austin Gene Westfall; loving boyfriend, Steven Claypool; sisters, Donna Ferrell (Carl) and Anna Reno; brother, Glen Arthur (Kathi); several aunts, uncles, cousins, nieces, nephews, and friends.

A memorial service will be held on Saturday, September 26, 2020, from 1:00 to 3:00 p.m. at the Ravenswood Riverfront Park.

In lieu of flowers memorials may be made to Roush Funeral Home, PO Box 933, Ravenswood, WV 26164 to help with funeral expenses.

Condolences may be expressed to the family at roush94@yahoo.com or on Facebook at www.facebook.com/roushfuneralhome.