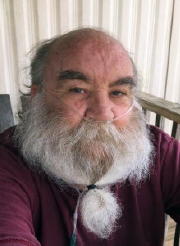 Tommy Gene Roberts, 67 of Elizabeth WV, was born December 31, 1952 to the late Joseph and Anna Roberts, he passed away on July 6, 2020 after a lengthy battle with cancer, at the home of his daughter, surrounded by his loving family.

Tommy was a lifelong resident of Wirt County, he graduated from Wirt County High School in 1971 and was retired from Pierce Food Company.

He is survived by his loving wife of 49 years Ruth Roberts; his children Tommy Gene Roberts Jr. (Tia) and Tammy L. Roberts; grandchildren Julie A. Lockhart and Joseph G. Roberts; great-grandchildren Ryker and Kenny Chaffin and siblings Ronald (Marsha) Roberts, Billy (Pam) Roberts, Patty Roberts, Martha Murray, Linda Miller, and a sister-in-law Brenda Roberts and several nieces and nephews.

Tommy loved watching NASCAR with his grandson Joey and he loved watching westerns and game shows. He loved spending time with his kids and grandkids. He was member of Big Island Run Church.

He was preceded in death by his parents Joseph Jean and Anna Florence (Hardbarger) Roberts, grandparents David and Nancy (Mackey) Roberts and Lawrence and Martha (Valentine) Hardbarger, a brother Eddie Roberts, and a granddaughter Tasha Lockhart.

In honor of his wishes, Tommy will be cremated and no services will be held at the present time. A celebration of his life will be held at a later date.