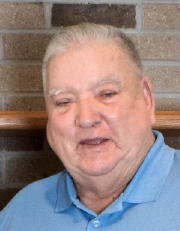 Randall Wilson Jones, 81, of Sand Fork WV, departed quickly from his earthly life on June 2, 2020 in the comfort of his home. "Ranny" fought numerous illnesses for the past several years, a battle which became increasingly difficult such that it eventually eroded this large, powerful, authoritative spirited man to be humbled to the reliance of his family and caregivers for his basic care.

Upon the loss of his loving wife Zeldia six months earlier, his embers of life slowly began to fade further and so, on that Tuesday morning in June, he hastily left before even completing his breakfast meal in order to be reunited with her.

Randall was born at home in Gilmer County, West Virginia on February 24, 1939, son to the late Gilbert and Alvis Campbell Jones.

On August 9, 1966, Randall was united in marriage to Zeldia Mae Butler Jones with whom he shared 53 years together until her passing in December of 2019. They met in Elyria, Ohio, where he was working at a factory and she was waitressing at a car hop restaurant, and they decided almost immediately that they were destined to be together.

In addition to his wife and his parents, Randall was preceded in death by two brothers, Aethel "Sock' Jones and Edgell Jones.

Ranny is survived by his daughter, Melinda Sine and husband Cary, of St Albans WV, his daughter, Melissa Jedamski and husband Bert, of Sand Fork, and his son, Randall Wilson Jones II "Bub" of Morgantown WV; four grandchildren, Emilie Jedamski, Bryce Sine, Evan Jedamski, and Cassidy Sine. Also surviving are, sister Alicia "Ann" Thomas and husband Paul, sister Linda Collins; brother Rodney "Rod" Jones and wife Joyce; numerous nieces, nephews, cousins, and in-laws; and, special care-givers Melissa Frame, Charlene, Amanda, Roberta, and several others.

Randall was raised on the family farm at the head of Lynch Run. It was a hard-scrabble life typical of that time, where nothing came easy, hard work was expected, and the straight and narrow behavior was demanded by all. Many an enthralling story has been told about the struggles and experiences of the "little Joneses" and their life up the holler among the mules and the hogs, the coal mines, the hillside haymaking, the pitchforks in the barn loft, the rabid foxes, and the taking in and feeding and supporting of many of the neighboring children and families.

Ranny learned from an early age the critical need for hard work and resourcefulness in order to survive. He attended one room schools and then graduated from Sand Fork High School in 1957. Ranny proficiently performed many jobs throughout his lifetime such as, farming, hauling coal to Gilmer Station, coal mining, heavy equipment operator, industrial welding in a factory, and a long career in the Oil & Gas industry with numerous companies, having most recently retired from PDC Energy, Inc. in 2012 after 16 years of service.

Randall's other interests and activities included, wandering the Country for nearly a year on his motorcycle during his youth, flying airplanes, having nearly qualified for his pilot's license in the '60s & '70s, tinkering with engines and other mechanical things (being a typical Jones, there were few things he wasn't capable of fixing) gardening, passing the time at Miller Supply and Somerville's, and simply helping others, oftentimes leaving his own projects unfinished in order to lend a hand to anyone in need. Over the past 20 or so years, he also found much enjoyment spending time with his grandchildren who he loved dearly. Ranny also served his community for many years as a member of the Gilmer County Volunteer Fire Department. A devout Christian, Randall was a long time member and Elder of the Glenville Church of Christ, having also served as Treasurer for numerous years.

A public graveside service will be conducted at the Jedamski Family Cemetery at 11:30 a.m. Saturday, June 6, 2020 with Pastor Steve Boggess officiating. A Fireman's Ceremony will also be conducted at the graveside. Burial will follow at the conclusion of services. A public visitation will be held from 4:00-8:00 p.m. Friday evening at Ellyson Mortuary in Glenville.

As we continue to adjust to the Covid-19 pandemic, we are taking all precautions necessary to protect the general public and families we serve. To that end, it is required that all visitors wear face masks, social distance, and sanitize their hands when entering the mortuary.

Ellyson Mortuary, Inc. is honored to assist the family of Randall Wilson Jones with arrangements.