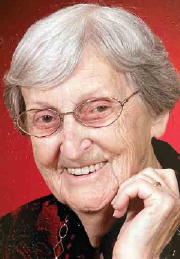 Mary Anita Hathaway Mathews, 98, of Vienna, passed away May 25, 2020, surrounded by her loving family. She was born December 31, 1921 in Grantsville, WV, a daughter of the late Oral C & Grace Miller Hathaway.

Mary was raised in Grantsville where she was the valedictorian of the Calhoun County High School Class of 1939. A year later she married William James (Bill) Mathews, Jr, who predeceased her, following 66 years of marriage. They eventually settled in Vienna where Mary served the city, for nearly twenty years, as its elected Recorder, Council – appointed Treasurer, and unofficial secretary to the Park Board. She was an active member of Vienna Baptist Church, serving as Church Clerk, Deaconess, and member of the Historic and Publicity Committee, as well as volunteering her time to assist the West Virginia Baptist Convention office in Parkersburg, WV.

She loved everything about family. Mary attended numerous sporting events, baptisms, graduations, plays, and anything with which her grandchildren were involved. She loved Mountaineer football and was able to attend many games at old Mountaineer Field and a few at the new one. She also loved working outdoors in her yard and vegetable and flower gardens, and could be seen mowing her lawn until she was almost 90 years old.

Mary was a devoted animal lover, a legacy she passed on to her family, and leaves her cats, Abby and Ducky, missing her.

Surviving are six children: John R Mathews (Janice) of Washington, WV, Sallie Romano (David) of Clarksburg, WV, Linda Towner (Ed Burks) of Washington, WV, David Mathews of Johnstown, OH, Marty Rhodes (Dick) of Vienna, WV and Elizabeth Yatrakis (George) of Lausanne, Switzerland. She is also survived by three sisters: Patricia Targgart (Hudd) of Atherton CA, Martha Ransom of San Bruno CA, and Judith Gaunt (Joe) of Adamstown, MD.

She leaves behind 14 grandchildren: Jennifer Triplett (George), Jackie Mahaney (Scott), Jared Towner (Bayley), Brady Mathews (Eydie), Rachel Romano (Corey Heater), Joshua Rhodes (Krista), Byron Towner (Brooke), Jacob Towner (Alisha), David Romano (Kisley), Christina Yatrakis, Nathan Romano, Lucie Romano, Cally Yatrakis and Evan Rhodes, 17 great-grandchildren (1 on the way), and numerous nieces and nephews.

In addition to her husband and parents, she was preceded in death by four sisters: Lelia Rose, Betty Sturm, Grace (Tink) Bower and Sarah (Mickey) Frederick; two brothers, Oral C (Buck) Hathaway, Jr. and George B (GB) Hathaway; son-in-law Jerry M Towner, Jr and daughter-in-law Linda McKenzie Mathews.

Because of the COVID-19 restrictions, there will be no public visitation or funeral. Mrs. Mathews will be laid to rest beside her husband at Evergreen North Cemetery after a private family service in the open air chapel located at the cemetery. A public Celebration of Life will be announced at a later date.

In lieu of flowers, contributions may be made to the Salvation Army 534 5th Street, Parkersburg, WV 26101 or Vienna Baptist Church 3401 Grand Central Avenue, Vienna, WV 26105.

Leavitt Funeral Home, Parkersburg is assisting the family with arrangements. Online guests may send condolences to the family by visiting www.LeavittFuneralHome.com.