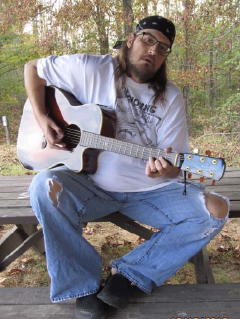 Ryan "Fudge" Gregory Underwood, 39, of Grantsville WV, passed away Sunday May 10, 2020 at Ruby Memorial Hospital.

He was born on October 11, 1980 in Grantsville WV to David Underwood and Joyce McCartney Underwood.

Ryan was a graduate of Calhoun High School and earned his B.S. in Behavioral Science with a minor in Criminal Justice from Glenville State College. He was employed for many years as a Licensed Social Worker, most recently at Calhoun High and Middle School through Westbrook Health Services.

He loved music and composed some of his own, performing at local events. He also loved restoring trucks and mud racing. He also loved spending time with family and friends. He loved and fostered many children.

He is survived by his wife, Pamela J. (Pepper) Underwood, the love of his life, whom he married on October 17, 2015. He is also survived by his parents, David and Joyce Underwood of Grantsville, a brother, Dr. David Chad (Amanda) Underwood of Greenville SC, his very special aunts Fran (Jerry) Isaacs of Hepzibah WV and Jill (Duane) Amann of Las Vegas NV, two special cousins, Dr. David (Megan) Whitlow of Asheville NC and Daniel Whitlow of San Francisco, CA. He is also survived by his in-laws Terry and Sheila Pepper of Petroleum WV.

He was preceded in death by his beloved grandparents, Rex McCartney and Faustine Duskey McCartney of Grantsville, James P. Underwood and Katherine Sparks Underwood of West Union, and an Uncle, James R. Underwood of West Union.

Abiding with government recommendations for social distancing during the COVID-19 Pandemic, memorial services will be held at a later date.

Ryan's family would like to extend sincere appreciation to Teresa Ritchie for her care, kindness and compassion, and to Dyer and Crystal Frame, his very close friends for all their help during this difficult time. They also thank his coworkers at Westbrook and everyone else for their kindness and gestures.

Arrangements will be held by Stump Funeral Home.