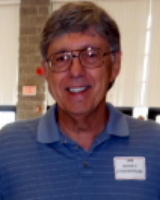 Recently I was walking in Parkersburg's City Park as I have done so many times since moving here in 2006. One circular lap equals one mile and most days I walk several laps. My best ever time was 14 minutes and 30 seconds, but I usually average 16 minutes. Soldiers are taught to march at the rate of one mile every 15 minutes if I remember my basic training days correctly.

In dealing with joggers, I have learned to accept the fact that I will be passed by them because they are running on younger legs. When I hear their footsteps, I step aside and remember when I used to run from our house at Cabot Station up to Sav-A-Tool and back.

Quite often after finishing laps at City Park, if I have any gas left in the tank, I will walk across 23rd street and climb what I call, "Cemetery Hill" known locally as Mt. Olivet Cemetery. The incline provides more cardio and the area is not nearly so crowded with other walkers. Once on top, I can walk the serpentine narrow roads covering the entire area. I am free to meander along noting the gravestones of people who owned businesses when I was a kid in the 1950's. Tombstones with names such as Dills, Chittum, Chancellor, Wharton, Smith, Stout and others are seen; all were prominent individuals of the past. Also, our first Governor, Arthur I Boreman, was laid to rest there in a small mausoleum.

I also have found several gravestones of people that I knew who lived at one time in Grantsville. I have lingered many times over the grave of Phillip D'Orazio who was my neighbor back during my Hardman Alley days.

I remember an incident years ago concerning Phillip who at that time was 3 or 4 years old. His family lived across the alley from my parents. I had just received my new bicycle so it was probably 1950. I was riding down the narrow sidewalk going way too fast which I would soon regret.

For whatever reason young Phillip wandered out right in front of me. I saw him too late to stop and ran over him knocking him down. Thankfully, it was a glancing blow. Mrs. D'orazio saw what happened and ran out into the road and scooped him up in her arms. Let me tell you he was really wailing. When I got the bike stopped, I saw my dad jump off the porch and run toward the scene of the accident. As I started to explain what had happened, he smacked me on the butt so hard it knocked me down.

I got up and scrambled to our house as fast as I could go .I was afraid I had killed Phillip! He survived just fine and in later years would become one of the few really good basketball players in the history of the old Calhoun High School. Phillip followed in his dad's footsteps and became an attorney. He was the Assistant Prosecuting Attorney for Wood County. Regrettably, He died much too soon in a car accident.

Often I visit the graves of Gary and Carol McCallister Campbell. Gary was raised by Mr. and Mrs.Troea Morrison, Troea was Gary's stepdad and was the former Superintendent of Schools in Calhoun County. I remember Gary who may have graduated from Calhoun High in 1953. Back in the day he had a really neat 57 Chevy. He worked for and retired from what is now Dominion Resources. I always thought his wife, Carol, was such a neat lady who always looked good no matter what clothing she wore.

Sometimes I stop atop "Cemetery Hill" and just look around. It seems that I can see forever from there. It is especially beautiful in the fall when the leaves are turning. That hilltop provides a panoramic view all the way to the new Rt. #50 bypass where distant vehicles look like children's toys.

Some people have an aversion to walking among the dead. I find it rather peaceful and serene. I am reminded of an inscription once seen on a tombstone. It is as follows: "Where you are now, I once was—where I am now, you soon shall be." My mother, who was into poetry, used to quote that passage so often that I can never forget it.

There have been times when I have passed by new gravesites covered with flowers. And often, relatives are standing there grieving in their loss. At those times I always show respect by quietly walking away and giving them plenty of space. It is especially heart wrenching when they are grieving over a child. I am forced to look away when I see teddy bears and toys among the flowers. As you know, grown men are not supposed to cry.

The contrast could not be more vivid when I look down at City Park below me. I hear people laughing and talking. They appear happy and carefree. I see and hear cars travelling on 23rd street with an occasional horn blowing. The people in the cars and those walking and jogging in City Park may occasionally glance up at the cemetery without really understanding what they are seeing. They are so wrapped up in their own life situations, they don't have time to think about those who have gone on before them. I am reminded that we are all human with our individual frailties and each of us will eventually die.

The point I am trying to make is that those individuals in that cemetery were real people at one time with their own hopes and dreams. They deserve our respect. The fact that they have gone on before us does not mean they should be forgotten. I like to think everyone buried there has a story to tell. Unfortunately for most of them, their stories will never be shared.

As you may have surmised, the exercise that I force myself to do also gives me a chance to do some serious thinking. Hopefully, the exercise helps my mind see things more clearly.

Now that the YMCA is closed, walking is basically the only choice I have. At my age I fully understand the old adage, "Use it or lose it." What I have come to realize is that I will lose it anyway due to the aging process, but exercise slows it down, at least I hope it does.

I don't have a good track record concerning longevity. With my dad gone at age 53 and mom by age 61, I consider myself lucky to be almost 78 years old and still active. Set adrift at age 30, with both of them gone and my being an only child, I used to get angry and sad when I heard people I worked with talk about Thanksgiving and Christmas and spending time with their parents.

I could not understand why life had been so unfair. My parents never had a chance to see their grandchildren or do all the things grandparents are supposed to do. I still think about them almost every day. It has taken me a long time to be mature enough to accept what I cannot change. Going on alone as I had to do toughened me and made me much more capable of shouldering life's burdens.

Looking back, I cherish the time I spent with my parents. They did their best to teach me right from wrong, to treat people fairly and always do the right thing. Of course, there were times when I failed, but even in my failures, I kept hearing my mother's words of wisdom, "Listen to that little voice in the back of your head and you will know what you should do." That was good advice then, and good advice now. I am not bragging when I say that I was so lucky to have had such good parents.

None of us are perfect, we all make mistakes. When we recognize and admit to them, we have grown as a person. We have gained a better perspective of what life is all about. And, just maybe, we will not be so quick to judge others so harshly. As JESUS said, "Let he who is without sin cast the first stone."