SPENCER: STRETCH MY BOUNDARIES AND TEST MY LIMITS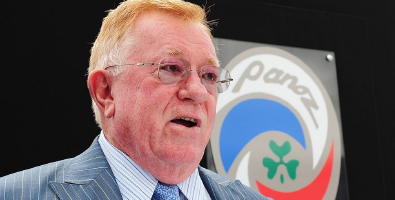 By Bob Weaver
One of America's outstanding entrepreneurs and multi-millionaires got his "legs" in Spencer, West Virginia.
Don Panoz's (1935-2018) family moved to Spencer in the 1940s, his father was a rising boxer in Ohio who suffered a disability, and then landed a job of managing the Moose Lodge in Spencer, bringing along his fledgling family.
Later the elder Panoz started the VFW Club on Market Street, whose building later begat the Sinnett Funeral Home.
Panoz, in his unpublished biography said, "It may sound crazy, but growing up in tiny Spencer, West Virginia, set the trajectory of my life. It provided me with the independence to stretch my boundaries and test my limits."
"I learned how to take risks, survive and assume responsibility for my actions. Those early experiences gave me the confidence to jump headlong into three distinct worlds - pharmaceuticals, the hospitality industry and race cars," he said.
Panoz attended Greenbrier Military School in Lewisburg, West Virginia, where he met Nancy, whom he would later marry. The two both served in Japan with the United States Army, then moved to Pittsburgh upon their return to the United States.
He operated two drug stores in Pittsburgh while studying business at Duquesne University. In 1961, Panoz and Milan Puskar formed Milan Pharmaceuticals, headed a research group that invented time-release medication through a transdermal patch, known most commonly in today's market as nicotine patch.
Panoz left Mylan in 1969 when the company refused to develop the patch, and subsequently moved the family to Ireland where he formed Élan Corporation. This company has since become an industry leader in drug delivery products and technology, continues to hold the worldwide patent for the nicotine patch, and was the first Irish company to be publicly listed in the U.S. stock market.
Don and Nancy Panoz founded Château Élan Winery & Resort in Braselton, Georgia, in 1992.
He was also the co-founder and chairman of a water pollution control firm, HydroMentia and was the Chairman of the Board of Directors for the Norcross, GA based indoor LED display manufacturer, NanoLumens. He was also the owner of Panoz, LLC, and in 2014, he began manufacturing the 25th Anniversary Limited Edition Panoz Motorsports car made exclusively in the United States, continuing as a major figure in USA motorsports.
He died in 2018.
The first chapter Panoz wrote about growing up in Spencer is published on the Hur Herald here with the expressed consent of his widow Nancy.
Small-Town, USA: Panoz Recalls Spencer
It may sound crazy, but growing up in tiny Spencer, West Virginia (population two thousand), set the trajectory of my life. It provided me with the independence to stretch my boundaries and test my limits. I learned how to take risks, survive, and assume responsibility for my actions. Those early experiences gave me the confidence to jump headlong into three distinct worlds—pharmaceuticals, the hospitality industry, and race cars.
Built on a square with a red brick courthouse in the center, retail stores on three sides, and only one stoplight, Spencer could have served as the setting for Harper Lee's To Kill a Mockingbird. It was a haven for kids, and each summer morning I headed out the door barefoot and rarely returned until dark. My friends came from families like the Battens, who lived in a dilapidated wooden shack with newspapers glued to the walls to keep out the cold, and the rich Woodyard and McIntosh kids, whose fathers held positions of power. The Battens cooked beans and biscuits or squirrel for dinner on a wood-burning stove, while the McIntoshes and Woodyards dined on three-course meals prepared by cooks. Whether I landed at a mansion or a shack at noon, I'd likely be invited for lunch.
The hierarchy from poor to rich was topographical. Those without money lived at the bottom of the hill, while those who were wealthy lived at the top. My family lived somewhere in between in a nice middle-class section of town. But kids of similar ages ran amok together; social status was of no consequence. That subliminal message has served me well.
As a kid, if I got hurt, I'd take myself to the emergency room and get stitched up. I don't think they ever notified my parents. It wasn't until years later that my mother realized I had been shot in the knee when a friend fired a .22 rifle. One of the bullets grazed my knee and off to the emergency room I limped, aided by my terrified friend. He thought for sure he would get in trouble because he wasn't allowed to take the gun out of the rack without his dad's supervision, but he didn't confess and neither did I.
My parents never worried about me; there was a "mother" in nearly every house who didn't hesitate to report any mischief I got into, which was frequent. Or maybe I was caught more often because, as the only kid in town with red hair, I was a beacon in a sea of blond and dark-haired kids.
Aubrey Wright, Freddie Batten, and Richard Spencer (whose ancestors founded the town) were my favorite partners in crime. One day we hitchhiked about six miles into the country and came across a dilapidated, empty house hidden in the thick woods that surrounded the town. The temptation to explore was too great, so we prowled around the rooms, opened the drawers, and were generally just nosy. As far as I can remember, we didn't steal anything, and when we left, we were excited about our excellent adventure—and getting away with it.
But the real adventure was yet to come. Apparently someone spotted the four of us, and though they couldn't identify the others, my red hair gave me away. That night, a state trooper named Sergeant Dan pulled up outside the front of the house. I was sitting on the steps with no place to run, and my heart thumped so loudly I was sure he could hear it. "Son," he said, "I understand you and your friends broke into the old Smith house today.
Did you know that entering a home uninvited is called 'trespassing' and that's against the law?" My face probably turned as red as my hair, and I was literally quaking in my shorts. "I should take you down to the station and fingerprint you," he said. "If I do, the judge will probably send you to reform school."
My dad must have heard the deputy's deep voice and stepped outside just in time to hear the accusation. The disappointment on his face spoke volumes. I blinked back tears.
Sergeant Dan took Dad aside and the two talked for a few minutes, occasionally glancing my way. It seemed like an eternity before they called me over.
The trooper put his hand on my shoulder. "Son, since I know your dad, I'll look the other way this time. But don't let me ever catch you or those friends of yours trespassing again."
"No, sir," I said firmly, relief washing over me. But it wasn't over yet. I knew there would be some serious punishment from my dad—who grounded me for a week—and relentless teasing at school.
Sure enough, by morning every kid at Spencer Grade School knew that a state trooper had come to my house. It took me all year to live down the escapade. The other kids got in trouble too, but their parents received phone calls, not personal visits from Sergeant Dan.
The red hair and fair skin were a "gift" from my mother (one I would gladly have given back). Her Irish family lived a simple life in the Quaker village of Beloit, Ohio, where my maternal grandmother Maude Boyle's house lacked even the most basic modern conveniences like indoor plumbing and electricity. I hated using that outhouse, or even worse, the smelly chamber pot under the bed.
Still, it was fun to be there absorbing the quaint speech patterns. "Thou art a dead ringer for thy grandfather, Homer," she told me as she patted my red head. It was hard to disagree. Looking at a hazy photo of him as a young boy was like looking at my own reflection in the mirror. He died before I was born, and I've always wondered if, along with the flaming hair.
I also inherited his penchant for innovation and fast transportation, because despite the strict adherence to Quaker traditions, he was very modern in his thinking. He held patents on a number of harnesses and other related sulky racing gear — a hobby he loved—just as I came to love race cars decades later.
My father's Italian family was the total opposite. Gregarious and friendly, my grandparents and two of my aunts lived in a modern house in the small city of Alliance in northeastern Ohio, on the headwaters of the Mahoning River. They delighted in teasing me about my red hair and freckles and spoiled me rotten at the same time.
Grandpa Panoz worked for the Pennsylvania Railroad as a night janitor and had a five-acre farm about three miles outside town that he tended during the day. I loved helping him weed the tomato garden, even during the year he put in one thousand plants for my grandmother. It was more than enough to make a year's worth of her famous homemade sauce, and I earned money by selling tomatoes on the side of the highway. After a visit, I'd return home listening to the sound of change jingling in my pockets.
Although my parents came from totally different backgrounds, they were more alike than what appeared on the surface. Contrary to her austere Quaker upbringing, my mother, Pauline Boyle, was a bit of a rebel who ran away and hitchhiked to Utah with a girlfriend when both were only sixteen. Dad, too, was a renegade and professional boxer who launched his career at age fifteen with a decisive win at the National Golden Gloves Championships. I've been told I inherited some of that rebelliousness.
He and Mother met at a dance that probably included teens from Beloit, Alliance, and Sebring, Ohio, a string of tiny cities located within thirty miles of one another. At the time, he was at the top of his game. The handsome featherweight boxer and the beautiful, blue-eyed Quaker fell in love and eloped. Both were just sixteen. Oddly, their union caused more of an uproar in the Italian family than in the Quaker side, because Dad's parents couldn't understand why their dashing Eugenio (Eugene) didn't choose a "nice Italian girl."
A second-generation American, my father was the second-oldest son born to Louisa and Antonio Panunzi (later changed to Panoz). Louisa wasn't Grandpa's first wife, however. As was the pattern among peasants, he had left his original family in Italy to make enough money to pay for their passage to America. Yet just prior to his return, his first wife, Antonia, perished in a devastating earthquake in Avezzano, Italy, in 1915 that killed 32,621 souls. She left behind two young daughters, Josephine and Sena, and a son, Dominic.
With a heavy heart, he returned to his homeland, but before sailing back to Alliance with his children, he was introduced to Louisa, "who would make a good mother for his children." The couple married and sailed for America. It was obviously a good match, because the couple had six more children, including my father Eugenio, his brother Venjenzo, and aunts Loretta, Jenny, Rena, and Margaret.
I was born at the Panoz house in Alliance on February 13, 1935, just a year after my parents married. Imagine their surprise when they saw my bright red hair and brown eyes—an unusual combination, particularly in that part of the country. Everyone doted on me.
When I was four or five, my parents moved to a modest house in Steubenville, Ohio, near Dad's boxing manager, but I was too young to remember much about his days in the ring. While he was still in his prime, his manager set up a fight in Pittsburgh's Cadillac Gardens against Joey Archibald, a contender for the welterweight world title. My dad was a southpaw (a boxer who leads with his right hand, then follows with a strong left cross). I'm told he had a deadly hook, jab, hook, jab.
In the second or third round, he broke his left wrist and had to rely on his weaker right fist for the rest of the bout. It was a split decision, which tells you how good he was. But he had had enough. He retired at age twenty-two with a winning record of 124 and 2 and never once encouraged me to follow in his footsteps into the boxing world.
Dad found a job as a bartender with the Loyal Order of the Moose in Steubenville and did so well that the head of the organization offered him a job as manager of a lodge in Spencer, West Virginia. It was definitely a step up, and we moved into a comfortable wood-frame three-bedroom home near the lodge, the first of three houses we rented.
~~~
I got my first taste of earning money when I was only eight or nine. Mom and I were visiting her sister, Aunt Alverda, in Canton, Ohio, and I was likely making a pest of myself. To keep me busy, Mom suggested, "Why don't you set up a stand? Alverda and I will make the lemonade."
I was thrilled. The house was ideally located on a big corner lot, and I dragged a wooden crate and chair outside and set it up strategically so I could catch foot and car traffic from two directions. My hand-painted sign read, "Lemonade, ten cents a glass."
It wasn't long before I had customers. Most of the men were overseas during World War II, so women had taken their places in factories and businesses. Whether they walked to work or drove, many stopped on that broiling-hot day to admire my red hair and buy a glass of cool lemonade. Business was booming when my friend Billy asked to get in on the action.
"Look, I'll tell you what," I said. "If you run this stand, I'll give you half of what you sell. Then I'll set up another stand on the opposite side of the street. That way we can catch traffic from all four directions." It was my first entrepreneurial venture.
Mom and Aunt Alverda spent the better part of the morning making lemonade, unaware of my branch location. When Mom came outside and saw Billy behind the original stand and me across the street, she stormed over. "Do you think you should get to keep all the money you make? Your Aunt Alverda and I provided the lemons, sugar, and water, and you're giving your friend half of the earnings?" she shouted. "I should take the cost of the ingredients out of your profits."
Fortunately for me, she didn't follow through, but she shut us down after that batch of lemonade ran out. I learned a valuable lesson for a nine-year-old that day: the difference between net and gross profits. It stuck with me, and each time I considered a new venture, I'd heed her warning and do the math first.
The sound of change jingling in my pocket was like catnip to felines, so as soon as I turned twelve, I landed a job setting up pins at the town's only bowling alley, a great job in the forties and fifties for a kid who liked a little excitement. It could be tricky, and occasionally setters got hurt either from flying pins or not getting out of the way of the heavy ball, but the risk was part of the fun.
It went like this: When the bowler threw the first ball, I would grab it and put it on the return rail, then scurry to pick up the pins in the gutter. I had to quickly read the numbers on the bottom of the pins that were knocked down and reset the remainder in a triangular rack. (For ten-pin games, there were five in the last row, then four, three, two, and one.) I was neither tall nor heavy, so I had to use all my weight to jump up on the platform then press a lever that would release the pins from the rack. I got pretty good at it and found jobs wherever we lived—be it Ohio, Missouri, or West Virginia.
As a result, I was one of only a few kids in town with spending money. Once, when my Boy Scout troop was going camping, I hired a taxi to drive me while all the other kids slogged through ankle-deep mud. They were really annoyed, especially since I hadn't invited anyone along for the ride.
Dad was thirty when he was finally drafted into the army. It was near the end of World War II when we moved to Joplin, Missouri, near Camp Crowder, and housing was at a premium in military towns. The only apartment my parents could find was a cramped residence hotel with only one bedroom that had barely enough space for their double bed and my cot. Dad's first duty was as a cook, but when his sergeant learned he had previous experience at the Moose Lodge, he put him in charge of food distribution for the battalion. To make ends meet, he took a job as a bartender at the watering hole frequented by the boys in uniform.
I got a job too, this time selling newspapers on the street corner across from the bus station where the soldiers arrived from Camp Crowder. "Get your news right here!" I'd shout. "Von Ribbentrop captured by Allies. Read all about it in today's paper." It was a pretty sweet deal. I sold the papers for five cents and got to keep two and a half, so if I sold fifty, I'd earn one dollar twenty-five —a fortune to me, since my allowance was only twenty-five cents a week.
During his time off, Dad often took me trout fishing in Roaring River in the Ozarks, where you weren't allowed to use live bait. Some of the fishermen cheated and put raw liver on their lures, but Dad wasn't a rule breaker. Let's just say he knew how to get around the law legally by soaking the lures in liver juice to ensure we'd come home with a bucket full of trout for Mom to fry for dinner. It was my second lesson in life skills: you can get around thorny rules and stay within the law if you find a different path.
When he was discharged, we returned to Spencer, but since the guy who had taken over his job at the Moose Lodge didn't want to leave, Dad located a large, empty house and created the Veterans of Foreign Wars Club (VFW) to accommodate all the returning servicemen. In those days, West Virginia was a dry state, but the laws were rarely enforced in private clubs like the Moose, Elks, and VFW. Managers could also score slot machines if they were good guys and were liked by the politicians.
Dad was definitely one of those "good guys" known by everyone in town. He hired veterans to tend bar and wait tables in the VFW restaurant and built a dance floor in the back where the members could bring their girlfriends or wives.
It was really something. I'll never forget the first time I saw that round, mirrored ball cast magical lights on the walls— a first in West Virginia. It was my third lesson in navigating the business world, one I've followed all my life: if you have a novel idea for a business, act on it.
Every night, Dad emptied the slot machine cash boxes, but sometimes change would fall into a little slot too tiny for grown-up hands. I'd happily worm my small fingers into the narrow space and retrieve every coin, because the more I found, the more I got to keep as allowance. Sometimes I made out really well.
At about age thirteen, I discovered girls and set my sights on Marjorie Dodd who lived up on the hill near the Woodyards and the McIntoshes.
I earned money to take her to the movies and buy a soda afterward by delivering the Charleston Gazette, a job I hated. My territory was in a section of town that was part middle class and part poor. Some of those housewives couldn't have been more than eighteen, and they were always short of money. "I'll pay you at the end of the week," they'd tell me. When I went back at week's end to collect, they'd say, "Just add it onto next week's tab." The problem was I had to pay for the papers up front, so I often ran short.
The summer after eighth grade, Major Keane, a recruiter for Greenbrier Military Academy in Lewisburg, West Virginia, came into the VFW and pestered Dad to enroll me. The story goes that they were playing gin rummy and the bet was me.
"If I win, you'll agree to send your son to Greenbrier," said Major Keane. "If I lose, I won't mention it again." Sure enough, Dad lost the bet and promised to talk to me. He often joked that I was the only kid ever sent to military school to pay off a gambling debt.
That night, Dad sat me down for a man-to-man talk. "A lot of your friends in Spencer have never even been out of the county, but you've had wider opportunities to see Ohio, Missouri, and even Canada," he said. "As a result, you've had more experiences than most of them put together. Greenbrier will be tough, but they have a great sports program and offer a variety of subjects and activities. What do you think about going?"
It was hard to argue with his logic. I decided to seize the opportunity.
~~~
To say that life at Greenbrier was different than the freedom in Spencer is a gross understatement, beginning with the uniforms. I kissed my shorts and bare feet goodbye in exchange for light blue-gray wool slacks with a black stripe down the side, a jacket with polished brass buttons and insignias, and either a gray or white shirt with a black tie. Our rooms had to be spotless for daily inspection before we lined up in formation to march to breakfast. In fact, we did everything in formation—from going to classes to marching to church.
We also got demerits for everything, and for each infraction we had to walk for a half hour. I quickly earned a demerit the very first day when I heard someone in the back of the line talking and turned around for a look-see. It was the first of many. We got demerits if our beds weren't made "the Greenbrier way," if our shoes weren't shined or our uniforms were wrinkled, if we were marching out of step, or if we broke rank. Once I got five demerits for having dust on my ukulele strings. It translated into two and a half hours of walking. I walked my ass off that first year. I swear it was the equivalent of walking to New York City and back.
My years at Greenbrier were sometimes grueling as I scurried from class to drills to football or track practice to walking off demerits, but I learned a lot about self-discipline, organization, motivation, and keeping a million balls in the air at one time—lessons that have lasted a lifetime and served me well in all facets of business life.
I also met my future wife, Nancy, while I was in school. Actually, I first met her sister Ann at the Methodist Church and flirted outrageously with her at the drugstore where the cadets and girls from Greenbrier College for Women hung out. Before long, Ann invited me to Sunday lunch at her house, which is where I met Nancy.
Ann and I dated for less than a year, because she was sweet on another boy who didn't return her feelings. She just dated me in the hopes of making him jealous. Ann was also furious when she found out that I had lied to her about my age (she was seventeen and I was only fourteen). Since I knew I was just a fill-in, the breakup didn't hurt my feelings. I got a home-cooked meal nearly every weekend and had a steady date for dances and the movies.
In 1950, I circled back to Nancy, who by then had turned into a real beauty who was whip-smart, popular, and feisty. She didn't tell me until years later that she was sweet on me from the beginning.
"When you called, Ann would pass the phone to me, and because we sounded so much alike, you didn't -know the difference," she said.
To finance my social life, I definitely needed a way to turn a buck. Ideas have always come easily, and it wasn't long before I hit on a doozy that would be profitable for me and helpful to my friends. Cadets didn't get out of school until just before Christmas and had no time to buy gifts for their moms and girlfriends. I figured I could solve their problem by selling jewelry. I found a costume jewelry store in the Philadelphia yellow pages, and after introducing myself to the owner, I laid out my proposition.
"If you'll send me some samples, I'll take orders from the cadets and send you the money for every box I sell," I said. He was a trusting guy and liked the sound of a deal that required only a minimum amount of work on his end. Within a week, he mailed me four or five boxes of costume jewelry in fancy boxes.
Selling them was easier than polishing the brass on my uniform buttons. Whenever I had new samples, the cadets would crowd around me at mail call and order brooches, necklaces, and earrings for their moms, sisters, or girlfriends.
I charged fifteen dollars a box, and even though it was pretty pricey for the cheap jewelry, they didn't have any other options and viewed it as a pragmatic deal. As soon as I received a batch of orders, I'd mail the jeweler five dollars for each box and pocket ten. The cadets were happy, the jeweler was happy, and I was happy (also, a little richer).
Since selling jewelry was pretty much seasonal, I needed a way to supplement my coffers year-round. Greenbrier was in the middle of nowhere, and to get to a transportation hub like Charleston, White Sulfur Springs, or Roanoke to catch trains or buses to their hometowns, cadets either hitchhiked or took a cab — a big expense. I struggled with it myself on our first semester break, but it quickly occurred to me that "carpools" were the answer. Weeks prior to our next school break, I made a deal with the local taxi company. I guaranteed the drivers would get paid in advance, and I would add a few dollars on the top for me.
I "advertised" my services on the dorm bulletin boards and then organized groups by destination. It cut the cost by the number of riders: four riders paid a fourth each; three riders, a third. Surprisingly, no upperclassmen tried to muscle in on my endeavor, and when I graduated, I passed the "business" on to a lowerclassman.
By that time, I had earned a reputation as a super salesman. I admit, though, that I was surprised when I opened the yearbook and saw a cartoon sketch of myself in my Greenbrier uniform with scores of necklaces hanging around my neck.
Funny thing: I never realized I was doing anything unusual. Dreaming up new ways of making money had been part of my DNA since my lemonade stand with the branch office at Aunt Alverda's house.
My life changed during my senior year when the top guy at Moose Lodge International offered Dad a job in Pittsburgh organizing membership drives and raising funds, an opportunity he couldn't refuse. Yet moving from tiny Spencer to a major city was a bit of culture shock for us all.
Without a summer job and hell-bent on buying a car, I agreed to go to Ohio to work for my Uncle Tony who was reroofing an old manufacturing building. Our job included tearing off the old roof that was full of soot and debris, and even though we tied scarves over our mouths and noses bank-robber-style, we still breathed in gallons of dirt. Every time I coughed, I'd think about the used Ford convertible I had my eye on and worked even harder. It also taught me a valuable lesson. If I never wanted to do manual labor again—or be drafted —I had better get myself registered for college. Fast.
The payoff came when I proudly paid for the convertible and immediately drove back to Lewisburg to see Nancy.
I decided to attend the University of Pittsburgh so I could live at home, but the freedom that came from no one looking over my shoulder went to my head. I only went to classes sporadically, played a lot of baseball and cards with my buddies, became the master of ceremony at college programs, and even did some stand-up comedy and magic tricks. It wasn't long before skipping school caught up with me and Dad got on my case for making rotten grades.
Once again, he sat me down for a serious discussion. "Dropping out of school leaves you wide open for the draft. Instead of waiting until your number comes up, why don't you volunteer?" he asked.
"My buddy Jimmy Costanza is an army recruiter, and he says that with your military background at Greenbrier, he can get you into the Army Security Agency (which later became part of the National Security Agency, or NSA). You'll have to spend a year longer in the service, but it will be a far better life than ending up in the infantry on the front lines in Korea."
I mulled it over for a few days and decided that he was right. I presented myself to Sergeant Costanza, who kept his promise. Without much fanfare, I passed the code test and found myself on a bus bound for Fort Knox near Louisville, Kentucky, for basic training.
This chapter was recalling Panoz's start as a multi-millionaire, whose net worth likely surpassed $500,000,000 million.
Not to bad for the street kid in Spencer, West Virginia.