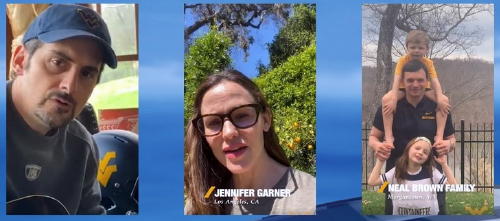 Country star Brad Paisley, left, actress Jennifer Garner
and West Virginia University Coach Neal Brown and two of
his children are among those who participated in a special
performance of "Take Me Home, Country Roads." (WVU)
MORGANTOWN, W.Va. (WCHS/WVAH) — For many West Virginians, the familiar state anthem "Take Me Home, Country Roads" can cause a range of strong feelings, from pride to joy to a longing for home and the mountains.
WVU is hoping it can help hold them together during the coronavirus.
A cast of people with strong ties to the Mountain State, including country star Brad Paisley, actress Jennifer Garner and WVU Head Coach Neal Brown and two of his children, joined forces to sing lines from the song. The video is posted on WVU"s Facebook page and is drawing lots of attention.
"We hoped it would lift people's spirits during this difficult time," said April Kaull, director of news for WVU University Relations, said Monday. "The response has been overwhelmingly positive, proving the strength of the Mountaineer spirit."
University President Gordon Gee sang in the video.,P> West Virginia's two U.S. senators, Shelley Moore Capito and Joe Manchin, also participated.
Former WVU quarterback Major Harris, former university running back Quincy Wilson and former WVU basketball player John Flowers joined in the effort. Former WVU player Deniz Kilici played the electric guitar and sang in the video, all the way from Instanbul, Turkey.
The current WVU Mountaineer, Timmy Eads, and the incoming Mountaineer, Colson Glover, are both featured in the video.
Peter Wilson with the U.S. Marine Band in Washington, D.C., played a few bars from the song on a fiddle.
The video is a hot commodity on social media, So far, it has more than 870,000 video views, 871 comments, 23,000 shares and 12,000 reactions.
See video here   facebook.com/wvumountaineers