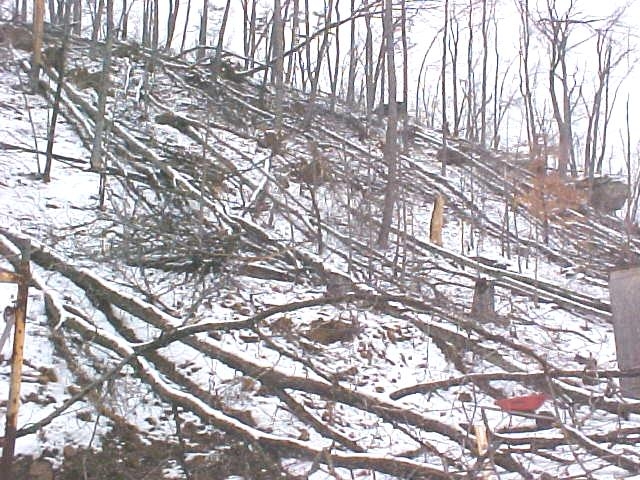 By Russ Richardson, Forester
I have been doing damage surveys and estimates for several local property owners and wanted to mention that damage similar to what you showed in Pine Creek, with everything laid flat is similar with places in Crummies Creek, between Road Run and Beech near Arnoldsburg as well as several places in Roane County.
Although most local people do not have pre-storm inventory information for their properties, the loss in many places readily exceeds $1,000 per acre.
It is hard to believe when land is still selling on a regular basis for $600-$700/acre and landowners often sell their timber in sales that net them less that $500/acre but, when the trees are actually counted, measured and evaluated, forest land with inventory values of greater than $1000/acre are extremely common.
In very many cases I have encountered so far, over 75% of the pre ice storm value for the killed timber will not be recoverable.
I am finding, as I go into the woods in more and more of the hard hit areas, that the actual, on the ground damage is much more serious than views from across the hollows or from the roads would appear.
In many places, 100% of the trees have some damage to their tops but the severity of the breakage is really only something that is visible upon close inspection. I would easily say that the damage to Calhoun and Roane County timber is several million dollars.
Broken tops are common but the debris from the broken tops from still standing trees are obscuring the trees that were toppled in the ice storm.
More photos that illustrate the severity of the damage and immediate loss would help build the case for a disaster declaration. Russ Richardson