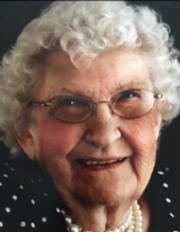 Mary Marjorie Tolley, of Spencer, West Virginia was born on November 2, 1916 and passed away peacefully at Roane General Hospital on March 23, 2020, at the age of 103.

She was the daughter of Aud and Louise Schreckengost.

Marjorie retired from the Kellwood Co. At one time she worked at the Roane Hotel and Bell Telephone. She was a wonderful wife, mom, grandmother, and great grandmother that loved being with her grandchildren for dinners and cook-outs. And if you stopped in to see her then you had to eat.

She was preceded in death by her husband Grosse; a son, William G.; and a daughter-in-law, Loretta (Nichols) Tolley; brothers, John, Charles, and Rev. Elmer Schreckengost; sisters, Hallie Clarkson, and Michie Parsons Seabolt.

She is survived by her children, Fred (Barbara) Tolley of Spencer, Wanda (Jeff) Stoker of Charleston WV, and special friends George A. Mace and Josh Carpenter, always having a good time; grandsons, Larry Tolley of Las Vegas NV, Gary Mace, Vincent and Scott Tolley, all of Spencer; granddaughters, Sheri Tolley of Louisville KY, Bridget Mace of Tampa FL, Mary Tolley Rhodes of Charleston, and Misti Tolley Carpenter of Spencer; great grandchildren, whom she loved spending time with Brittany Tolley of Charleston SC, Cassidy Tolley of Morgantown WV, Taylor and Sawyer Mace, Madison and Brayden Tolley, Anna and Leah Tolley, all of Spencer, and Lily and Grayson Rhodes of Charleston; a sister Emma Grace Runnion and several nieces and nephews.

Graveside services will be held at 11:00 am on Saturday, March 28, 2020 at the Gandee Chapel-Ward Cemetery. A private family-only visitation will take place prior to the service at the TAYLOR-VANDALE FUNERAL HOME, in Spencer.

Please be fully aware and abide by the State of West Virginia recommendations for social distancing during the COVID-19 Pandemic should you wish to attend the graveside service.