OLEN SIERS DIED IN 2020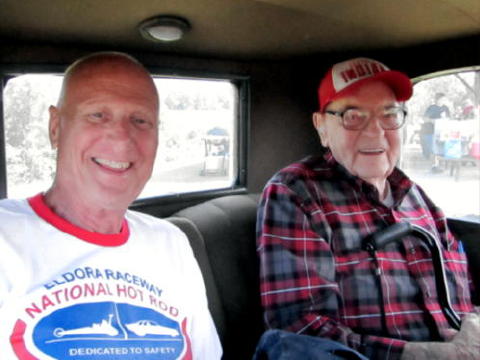 Car enthusiast Donnie Pitts, has five antique cars,
taking a spin with Siers in 2019 in his old-timer
By Bob Weaver
A funeral service will be held at Stump Funeral Home & Cremation, Inc., Grantsville, WV on Friday, March 20, 2020 at 11:00 a.m. with Elder Gene Miller officiating. Visitation will be held Thursday from 6-8 p.m. Interment will be in Mt. Zion UMC Cemetery.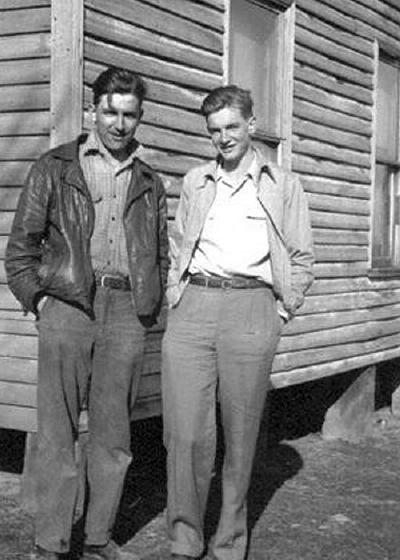 Calhoun gentlemen Willard Jones (left) and brother-in-law,
Siers (right) in their early days, both are now deceased
CALHOUN'S OLEN SIERS- "You Couldn't Make A Dollar," From Grapevines To Electronics - By Bob Weaver 2015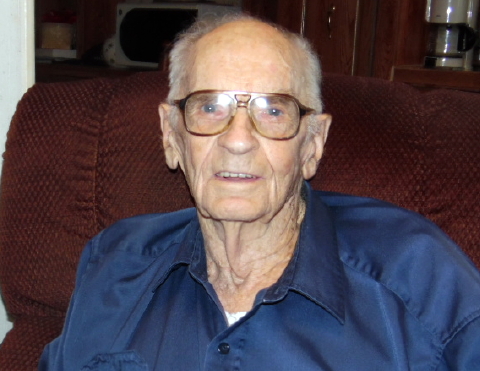 Olen Siers: "Getting a job at Ford, I was never broke again."
During the Great Depression, 90-year-old Mt. Zion resident Olen Siers said, "I lived in a time you couldn't make a dollar, but mom made the best biscuits you can imagine on a wood stove, we hunted, raised food, ate well, but everybody had to work just to survive."
Siers, who grew up with five brothers and two sisters in a meager house on Sears Run near Minnora, said he and his brother cleared four acres of woodland.
"It took several weeks and we got $10."
"My folks stood to the task through tough times" he said, recalling life with his parents Charles and Melissa Cook Siers. "My brothers worked building the Minnora Bridge for $1.50 a day."
Siers remembers when Charlotte Kunze, Calhoun's first official public health nurse in 1931, came to the house and gave typhoid vaccines.
"We didn't like that "shot" woman," he said.
He attended school in the original Minnora two-room school on Sears Run. "Ivah Brannon was the greatest teacher in the world," he also attended school to Warden Bailey.
Marrying Murel Gunn of Mt. Zion, who has passed, they had three daughters and a son, with Olen's first official work effort operating a sawmill.
He left Calhoun for Ohio where he worked for Ford Motor Company for 32 years, 28 years as a supervisor.
"My great stroke was getting a job at Ford. I was never broke again."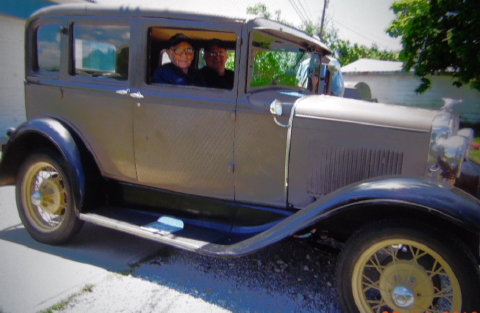 Siers driving 75 years, taking spins in 1930 Model T Ford
Siers most treasured worldly possessions, a 1930 Model A Ford and a 1982 Checker car that never made it to being a cab.
"I take the old Ford on a spin every now and then. Most everybody who rides it complains about its rough ride."
"It is exactly like the first car I owned."
"I got my drivers license for $1 in 1940, and am still driving 75 years later."
Siers, a member of the Church of Christ, retired back to Calhoun in 1989, saying "The best thing in the world was coming home to Calhoun."
"After all these years, 2015 is the year I had to give up gardening."
"In my time we went from swinging on grapevines to high speed electronics," he concluded, as he scanned an electronic tablet with family photos.
See complete obituary Olen C. Siers