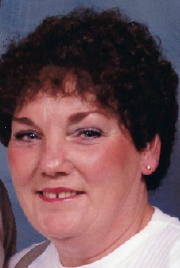 Patty Lou Maxwell, age 78 of Route 5 West of Glenville WV, departed this life on Saturday, February 15, 2020 at the Camden Clark Medical Center in Parkersburg WV, following an extended illness.

She was born May 5, 1941 in Akron OH, daughter of the late Holly Guy and Artie Richards Bush.

Patty is a former supervisor at Kinney Shoe Factory in Glenville and worked on the family farm for 61 years with her loving husband. She was a Baptist by faith, who enjoyed working with horses, camping, working on the farm, caring for her pets, and watching the Kentucky Derby.

On November 15, 1958, Patty was united in marriage to Willis J. "Jack" Maxwell, who survives at their Route 5 West home.

Surviving are 2 children, Randall A. "Randy" Maxwell of Glenville, and Melodie A. "Missy" Rector and husband David of Parkersburg WV; and 6 siblings, Elenore Skidmore of Cutler OH, Lona Smith and husband Allen of Williamstown WV, James "Jim" Bush and wife Barb of Grantsville WV, Charlotte Sidwell and husband June of Grantsville, Guy Junior Bush and wife Karen of Big Bend WV, and Judith Gant and husband Paul of Parkersburg.

Also surviving are 3 grandchildren, Randall A. Maxwell II and wife Jenine of Raleigh NC, Jason Maxwell of Glenville, and David E. Rector II of Parkersburg; 10 great-grandchildren, Quincy, Gia, Layla, Angelina, Chase, Ryan, Jayden, Rheagan, Hunter, and Cutler, and a host of nieces, nephews, cousins, and many other wonderful family and friends.

Along with her parents, Patty is preceded in death by 5 siblings, Ruby Gainer, Betty Dunbar, William Bush, Robert Bush, and Susan Siers.

A funeral service will be conducted at the Ellyson Mortuary, Inc., 2 Vanhorn Drive, Glenville WV at 11:00 a.m. Thursday, February 20, 2020 with Pastor Bryan Groves officiating. Burial will follow in the Jobs Temple Cemetery along Route 5 West of Glenville. Friends will be received from 4:00-7:00 p.m. Wednesday, February 19, at the mortuary in Glenville.

In lieu of flowers the family request memorial contributions be made to the Jobs Temple Association Inc., C/O Louella Stalnaker, 9 Lorentz Drive, Glenville, WV 26351.

Ellyson Mortuary, Inc. is honored to assist the family of Patty L. Maxwell with arrangements.