Annie Glenn, who in a high-profile life as the wife of John Glenn, the astronaut and senator, became an inspiration to many who, like her, stuttered severely, advocating on behalf of people with communication disorders of all kinds, died at a nursing home near St. Paul, Minn. She was 100.

By Bob Weaver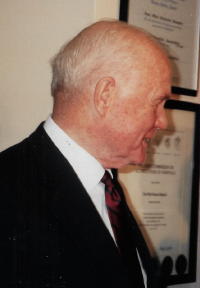 I met the late astronaut, politician and gentleman Senator John Glenn in 1991 when I was administrator of Touchstones Treatment Center at Martins Ferry, Ohio.
I found him to be a gracious man who was not particularly interested in talking politics, but was more curious to talk about humankind and our relationship to the universe.
He let me photograph him, one of my space heroes since my rocket boy days in Calhoun.
Telling him that I was a recovering alcoholic, he talked about a number of famous acquaintance who suffered from the disease.
We talked about our lives, returning to some very basic spiritual convictions, while most folks struggle with the dogma of hundreds of organized religions on planet Earth, generally polarizing them.
I remember telling him that my confusion worsened after taking a college course in religion, and as a suffering alcoholic, coming to believe in a Higher Power greater than myself."
Glenn said, "To look out at this kind of creation and not believe in God is to me impossible," after his second (and final) space voyage.
He saw no contradiction between belief in God and the knowledge that evolution is "a fact" and believed evolution should be taught in schools.
"I don't see that I'm any less religious that I can appreciate the fact that science just records that we change with evolution and time, and that's a fact. It doesn't mean it's less wondrous and it doesn't mean that there can't be some power greater than any of us that has been behind and is behind whatever is going on," he said.
Unlike a number of "famous" people I have met, he was a man of conscience and humility.
Fans of the late astronaut and U.S. Sen. John Glenn in 2020 are working to bring a statue of his likeness to the Ohio Statehouse to mark major future milestones, such as his birthday and the anniversary of his famous space flight.
2022 marks 60 years since Glenn became the first American to orbit the Earth, making him an instant national hero in 1962. He returned to space in 1998, at age 77, as part of NASA research on aging.