1/12/2023 - Jeffrey Todd Hoskins, 29, of Ripley, was sentenced Monday after being convicted last February on charges of child abuse by a parent causing death, strangulation and involuntary manslaughter. Prosecutors were seeking a first degree murder conviction.

Authorities arrested Hoskins in October 2018 after his 6-month-old daughter was found unconscious and not breathing. She was on life support for more than a year before she died.

Hoskins was sentenced 15 years to life on the abuse causing death conviction, 1-5 for strangulation and one year for involuntary manslaughter. All of the prison time will run consecutively.

Jackson County Circuit Judge Lora Dyer ordered 50 years of supervised release. The judge gave Hoskins credit for more than 3.5 years already behind bars.

2/23/2022 - Jeffery Hoskins of Arnoldsburg was convicted of involuntary manslaughter, a misdemeanor, which carries a one-year jail sentence, but they also convicted Hoskins of a child abuse death by a parent, which carries a 15-year-to-life term and strangulation, which has a one-to-five-year term.

HOSKINS REMAINS INCARCERATED FOLLOWING INDICTMENT FIRST DEGREE MURDER CHARGE IN DEATH OF BABY DAUGHTER ONE YEAR AGO

1/16/2021 - An Arnoldsburg man Jeffery Todd Hoskins, 33, remains in South Central Regional Jail after being indicted one year ago for the murder of his infant child.

According to the jail, he is charged with murder in the first degree, death of child abuse by parent, strangulation, violation of bailpiece and bond revocation.

The Herald was unable to get an update on the status of his case.

JEFFERY HOSKINS INDICTED ON FIRST DEGREE MURDER CHARGES IN DEATH OF BABY DAUGHTER - "Cruelest Of Deaths"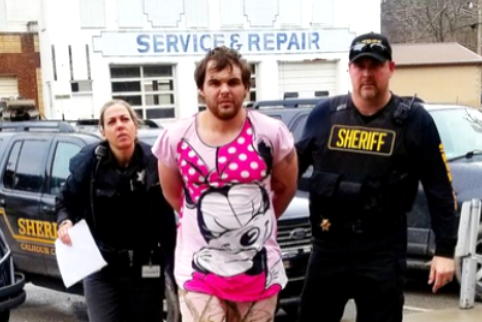 Photo shows Jeffrey Hoskins of Ripley when he was taken
into custody in Grantsville, WV following a shoplifting charge,
now charged with murder in the death of his infant daughter
1/2020 - Deputies in Jackson County, W.Va. say a man has been indicted for charges in connection to his baby daughter's death, more than a year after she was initially hospitalized for injuries they say were caused by her father.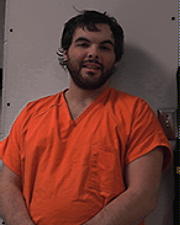 A special grand jury returned an indictment Thursday afternoon on various charges including first-degree murder and death of a child by parent by child abuse
. Jeffrey Hoskins of Ripley, formerly of Arnoldsburg, has been incarcerated since Jan. 7 when he was picked up on another charge. Deputies say he was found hiding at a home in Arnoldsburg in Calhoun County. He is currently lodged in the Central Regional Jail.
Charges were lodged against Hoskins for shoplifting at Arnoldsburg's Family Dollar store, about the same time his daughter died.
Hoskins was initially arrested in October 2018 and charged with child abuse by parent resulting in serious injury after his 6-month-old daughter was found unconscious and not breathing by the child's mother.
At the time, Jackson County deputies, working in conjunction with the West Virginia State Police, said Hoskins admitted to shaking the baby "hard" and then holding her by the neck, choking her because "the child was crying and wouldn't stop."
Investigators said Hoskins initially tried to lie and said the infant choked while he was feeding her, leading to her being unconscious.
"In six months this baby lived the worst of lives and died the cruelest of deaths," Chief Deputy Ross Mellinger said during the news conference.
The baby had been hospitalized since his arrest and never recovered. She passed away earlier this month, her funeral was held in Arnoldsburg.
A special grand jury was convened to hear the case after the baby's death.
Hoskins had previous domestic and drug charges.