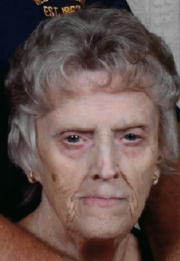 Sonya Ann Postalwait Richardson age 76 of Cedarville WV, departed this earthly life to be with her Lord and Savior Jesus Christ, late in the evening of Saturday, January 11, 2020 at her residence in Cedarville with her son and daughter-in-law by her side.

She was born October 21, 1943 in Hartford, Connecticut, daughter of the late Joseph G. and Veronica V. Llewellyn Johnson.

Sonya was a homemaker and Baptist by faith. She is a member of the Dawson Baptist Church, member of the Baldwin CEOS club, and also attended the Cedar Creek Senior Center. When she felt up to it, she enjoyed socializing with her many friends, talking on the telephone, and keeping updated on all things local with Facebook. She also enjoyed tending to her beautiful flowers, and caring for her precious companion puppy named "Precious", who was her pride and joy.

In 1966 Sonya was united in marriage to Bernard Postalwait who preceded her in death in 1996. In 1997 Sonya was united in marriage to Donald Richardson, who preceded her in death in 2006.

Surviving are 2 sons, Frank Postalwait and wife Tina of Cedarville, and Kevin Postalwait and wife Fran of Pricetown WV; and 2 half-brothers, Robert Simmons and wife Della and Everett Simmons and wife Barbara, both of Illinois.

Also surviving are 2 granddaughters, Tiffany Montgomery of Tanner WV, and Brianna Frame of Fairmont WV; 1 grandson, Corey Postalwait of Roanoke WV; 3 great-grandsons, 3 great-granddaughters, and a host of nieces, nephews, cousins, and many other wonderful family and friends.

Along with both her husbands and parents, Sonya is preceded in death by her daughter, Tina Smith, son-in-law, Jim Smith, and a brother, Joey Johnson.

A funeral service will be conducted at the Dawson Baptist Church on Route 33 West of Glenville WV at 11:00 a.m. Thursday, January 16, 2020 with Elder Larry Fisher and Brother Nathaniel Moss officiating. Burial will follow in the Rosedale United Methodist Cemetery in Rosedale WV. Friends will be received from 5:00-8:00 p.m. Wednesday evening at the Ellyson Mortuary, Inc. in Glenville.

Ellyson Mortuary, Inc. is honored to assist the family of Sonya Ann Postalwait Richardson with arrangements.