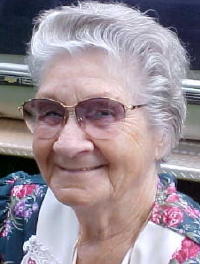 Lula Belle Starcher Hughes, 103, went home to be with the Lord January 4, 2020 at the home of her daughter surrounded by her loved ones.

She was born December 17, 1916 daughter of Grover and Rosa Jane Starcher.

Lula and Orval were married by the Rev. C.D. Miller. She was fortunate to have 5 generations represented in her family more than once.

She is survived by three children, Kathryn Maze, Kenneth (Muriel) Hughes and Orval (Charlotte) Hughes Jr; seven grandchildren, Donna Grogg, Tammy Van Reeth, Connie (Mike) Richter, Anthony (Michelle) Maze, Mike (Stephanie) Hughes, Mitch (Sharon McBride) Hughes, Gregory Hughes and two step grandchildren, Darrin (Misty) Campbell and Shawn (Jon) Ferguson.

Also eleven great grandchildren, Valerie (Dave) Gates, Justin (Kaylee) Maze, Brianna Maze, Austin Richter, Tre Hughes, Chase Hughes, Cori Hughes, Dalton Hughes, Alexis Hughes, Wyatt Hughes, Trenton McVey and eight step great grandchildren, Taylor Campbell, Mady (Ian) Sharp, Caleb (Shania) Ferguson, Cody Ferguson, Cammi (Logan) Kerby, Ashley Keener, Hannah Keener, and Casey Simmons. Two great great grandchildren, Brooklyn Grace Maze, Keasia Hughes and six step great great grandchildren, Anaeyla Simmons, Ocie Simmons, Myleigh Simmons, Cable Simmons, Brynn Martin and Irelynn Miller; special friend Michael Grogg and several nieces and nephews.

She was preceded in death by her parents, her husband Orval after 60 years of marriage, sisters Lucy Bollinger, Hazel Hughes and Goldie Greathouse and brother Holly Starcher and infant brother Thomas; a great grandson Dustin Michael Grogg; a son-in-law Gerald Maze and daughter-in-law Beverly Hughes.

She was a member of the Cremo Church where she was treasurer for many years. She was a devout Christian accepting Christ as her savior 91 years ago. She attended church anytime the doors were open. She worked Calhoun County elections for many years. She was a loving wife, mother, grandmother, neighbor and friend. She will be truly missed by all who knew her, to know her was to love her. She loved her flowers, her vegetable garden, and sewing. She loved working in all of these.

To say she was a wonderful cook was an understatement. If you left her home hungry it was your fault.

We all want to be with her someday, but we must each live our lives the way she would want us to-to be able to join her again.

Services will be 11:00 a.m. Tuesday, January 7, 2020 at Matheny Whited Funeral Home of Elizabeth WV, with the Rev. Roger Carter, Rev. Gary Maynor and Rev. Matt Robinson officiating. Visitation will be Monday January 6, 2020 from 6 to 8 p.m. Interment will be at K of P Cemetery of Elizabeth WV.