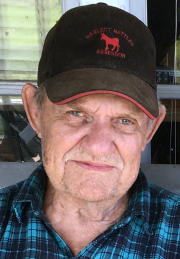 Roy Benson Cunningham "Ben" 86, of Creston, WV passed away December 28, 2019 at Marietta Memorial Hospital, Marietta, Ohio.

Born in Calhoun County, WV he was the son of the late Roy and Zela Cunningham. He retired from Alside after 30 years of service.

He is survived by his sister-in-law Vera Jo Cunningham of Mt. Zion and Betty Cunningham of Creston; several nieces and nephews.

In addition to his parents he was preceded in death by his brothers Paul, Gene, and Harold Cunningham; One sister Pauline Garretson; and one nephew Harold Dewayne Cunningham.

Funeral services will be held Friday January 3, 2020 11:00 a.m. at Stump Funeral Home & Cremation, Inc., Grantsville, WV with Rev. Rick Metheney officiating. Visitation will be held Thursday, January 2, 2020 from 6-8 p.m. at the funeral home. Interment will be in the Wright cemetery, Creston.