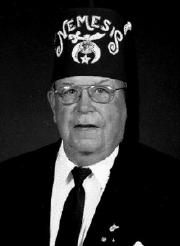 Charles "Chuck" Quick 75, of Elizabeth WV, lost his battle with cancer, Wednesday, Dec. 18, 2019.

Chuck retired from E. I. DuPont where he worked for 32 years, while working there he was a member of the fire brigade. He was a member of Wirt Lodge #82 A.F. & A.M., Nemesis Temple, AAOMS, Nemesis Road Runners, and he was a avid farmer.

Chuck was born in Wirt County WV, the son of the late Kenneth and Cora (Powell) Quick.

He is survived by his wife of 53 years Neva (Goff) Quick, one son Kevin Quick and his partner Karla Reinhold, one daughter Dee (Ron) Hardbarger, 5 grandchildren Samantha (Tyler) Turner, Wyatt Hardbarger, Victoria Quick, Carissa Quick, and Mercedes Quick (Fiancé Betanny Johnson) He had one great grandson Weston "Willy" Turner, one brother Rexie (Pat) Quick and several nieces and nephews.

In addition to his parents he was preceded in death by infant son Christopher Quick and one brother Thomas Quick.

Per his wishes, there will be no visitation or funeral service.

Masonic graveside services will be held at K of P Cemetery of Elizabeth Monday, Dec. 23, 2019 at 11:00 a.m.

A Celebration of Life will be held in his honor at a later date.

In lieu of flowers please make donations to Transportation for Nemesis Shriner's 244 Watson Rd. Parkersburg WV 26104.