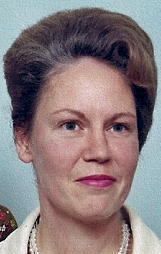 Martha Libb Bail, 86, peacefully departed this life December 4, 2019 at Summit Square in Waynesboro, Virginia.

Marty was born at Joker, WV the daughter of the late Artie Mae Mahaney Gainer and Lonnie Gainer.

She was a graduate of Calhoun County High School and Glenville State College, both in West Virginia.

She taught elementary school in Berkley County, WV for over 25 years. She was a faithful member of the Pikeside United Methodist Church in Martinsburg, WV. She was an exceptional mother, wife and friend. She enjoyed watching the Redskins, gardening, bird watching and reading.

Surviving are her daughter and son-in-law, Kelly and Richard Manor of Waynesboro, VA; granddaughters, Jennifer Boyer of Hedgesville, WV and Sarah Manor of Staunton, VA; grandsons, William Boyer and wife Jenn of Pensacola, Florida, Jonathan Boyer and wife Keri of Seaford, Delaware, Ryan Boyer and wife Annie of Alexandria, VA, Gregory Manor and fiance, Kristin Hill of Harrisonburg, VA; nieces, Jennifer Morris and husband Richard of Grantsville, WV, Sonya Minor and husband Dennis of Thornville, Ohio; and her deceased daughter, Kim's partner, Laura Moore, of Hedgesville, WV.

In addition to her parents she was preceded in death by her husband, Jimmy Bail in 2004; daughter, Kimberly Blythe Bail in 2011; sisters, Bernice "Bun" Hardman and Freida Hosey; also her infant brother, William S. Gainer.

In lieu of flowers or gifts, Martha and Kelly request memorial donations be made to Pikeside United Methodist Church, 25 Paynes Ford Road, Martinsburg, WV 25405, where a Memorial Service will be held on Saturday, December 14 at 11:30 a.m. with a luncheon to follow in the Fellowship Hall.