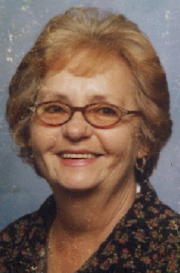 Mae Groves Lambert, 78, passed away November 26, 2019 at her home in Baltimore, Maryland.

She was the daughter of the late Theodore and Mary Groves.

Surviving are four sisters, Fae Norman of Zanesville OH, Emma Lucas of Dresden OH, Jean Marks of Philo OH, and Thelma Hall of Mt. Zion WV; two brothers, Joe Groves of Orrville OH, and James E. Groves of Orma WV; several nieces and nephews.

In addition to her parents she was preceded in death by her husband Earl Lambert; 2 sisters and 3 brothers.

Funeral service will be conducted at 1:00 p.m., Tuesday, Dec. 3rd. at Connelly Funeral Home, Baltimore. Visitation will be held on December 2, 2019 from 3 to 5 and 7 to 9 p.m. Interment at Holly Hill Memorial Gardens beside her husband.