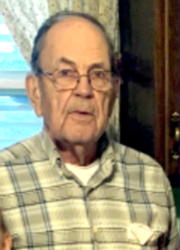 Harold L. Bennett 78 of Palestine WV, passed away Nov. 26, 2019 at Camden Clark Medical Center of Parkersburg.

He was born at Lucille, Wirt County, the son of the late James and Edith (Freeland) Bennett.

He was a 1959 graduate of Wirt County High School, and retired from DuPont of Washington WV after 36 years of service. he was a member of Two Runs Baptist Church.

Harold enjoyed working on his farm and woodworking, but most of all he loved being with his family especially his grandchildren and his 2 dogs Lucky and Gracie.

He is survived by his loving wife of 59 years Virginia "Ginnie" (Crew) Bennett; 2 sons, Keith (Cheryl) Bennett and Kevin (Brenda) Bennett; grandchildren, Teena (Matt) Hall, Ryan (Cora) Bennett, Kaitlin (Bill) Burton and Karly (Curtis) Reynolds; great grandchildren, Simone, Sydnee, Sawyer Hall and Ari, Levi, Caleb, Brylin and Avery Bennett, Charlie Burton and Henry Reynolds; 2 sisters Mary Lou Sheppard and Doris Hendrickson; and several nieces and nephews.

Services will be 2:00 p.m. Sunday Dec. 1, 2019 at Matheny Whited Funeral Home of Elizabeth WV with the Rev. John Watkins officiating. Visitation will be Saturday Nov 30, 2019 from 2-4 and 6-8 p.m. Interment will be at Two Runs Cemetery of Palestine WV.