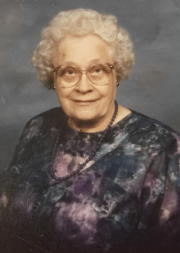 Mrs. Elda Mae Eyre Campbell, daughter of the late William Arthur Eyre and Lillie A. Fenstermacher Eyre, quietly departed this world for her eternal home with our Lord and Savior Jesus Christ on Tuesday, November 19, 2019, at the age of 102, with family in Cambridge, OH.

Mrs. Campbell was born April 11, 1917 in Coopersburg, PA and attended college at Westminister Choir College receiving a bachelor's degree in Music Education. She was a long-time member of Trinity United Methodist Church in Glenville, WV. She taught piano, voice and the organ for over 60 years and was very active in several church choirs.

She was married to the love of her life, James Harold Campbell on June 7, 1941. He preceded her in death on March 1, 1982.

She was blessed with two children, Donna Naleen Campbell Bagnell (Edgar) of Frankfort, KY and Janis Eyre Campbell Derby (David) of Clay, WV; seven grandchildren, Michael Goodman, Vicky Phillips (Michael), Jeffery Miller and Annie Miller all from KY, James Derby (Lori) of Cambridge, OH, Julia Triplett (Richard) of Bomont, WV and Janna Arnold (James) of Clarksburg, WV. She had 14 great-grandchildren and 4-great-great-grandchildren, as well as numerous extended family and close personal friends that she loved as family.

As a result of her loving spirit, amazing personality and unwavering faith she reflected God's love through her. Everyone who came into contact with her was blessed beyond measure. Her memory will forever remain in the lives of all who knew her.

A funeral service will be conducted at the Trinity United Methodist Church in Glenville, WV at 11:00 a.m. Monday, November 25, 2019 with Rev. Mike Ford officiating. Immediately following church services, a dinner in Mrs. Campbell's honor will be held in the Church. Graveside services will take place that same day at 4:00 p.m. at the Mt. Olivet Cemetery in Parkersburg, WV. Friends will be received from 2:00-6:00 p.m. Sunday afternoon at the Trinity United Methodist Church on Main Street in Glenville, WV.

Ellyson Mortuary, Inc. is honored to assist the family of Mrs. Elda Mae Eyre Campbell.