By Bob Weaver
Cleston Nicholas, 95, a resident of Russett Road, could be the oldest living WWII veteran in Calhoun. He just celebrated his 95th birthday.
Calhoun County had among the highest number of WWII vets per capita in the terrible conflict.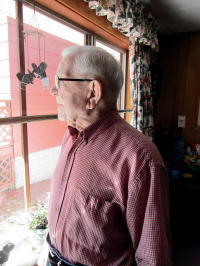 A huge number of that greatest generation have passed during the last few years. "It would be fine if there is an older WWII veteran," Cleston said, recalling his days in WWII.
Mike Ritchie, while director of the CCCOA, started the "Last Man Club," which continues to recognize veterans with a "Wall of Honor."
Cleston entered US Navy in 1945, serving in the US Navy, leaving Grantsville to attend basic training at Great Lakes, and then serving on battleship "North Carolina" out of Hawaii.
"On my 19th birthday I was at Toyoko Bay, the day they signed the peace treaty," Cleston said.
Under a "small world" syndrome, he was shocked to run into Calhoun boys Arden McCoy and Don Stewart at a Hawaiian movie house. "Later I bumped into Boyd Hartshorn," he said.
"Going off to war was a real eye-opener, a world that I never dreamed existed," Cleston said, "I certainly never thought about living this long."
His military career lasted about 1 1/2 years.
Read more about his life: Â  CLESTON NICHOLAS BANGS 90 - "Have Some Good Genes"
If you know of older living WWII vets, please contact   bob@hurherald.com